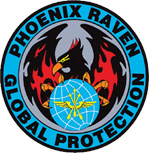 Beyond families, full-time jobs and their jobs at the 108th Security Forces Squadron, seven members of the 108th Air Refueling Wing have a busy life flying around the world providing security for AMC aircraft and crew.
These men are part of the team called Ravens that fly with AMC aircraft to locations where there is a high terrorist or criminal threat and no direct American or allied security support.
Gen. Walter Kross, former AMC Commander, implemented the Phoenix Raven Program in 1997 in the aftermath of the Khobar Towers bombing and other critical events around the world. The Raven program became an Air Force-wide program in 2004.
Senior Master Sgt. Grieg Moore, senior member of the 108th Raven team, said that the team members were some of the first people activated after 9/11 and were on active duty for two years.
Many of the senior NCOs were employed as staging managers during that time period; Moore served as one in Germany for 10 months helping to provide site security surveys for Afghanistan. Master Sgt. Dave Beun has served as staging manager in Puerto Rico for flights going to South America.
Some of the flights for which the Ravens provide security are diplomatic support with congressional delegates and diplomats, often leaving from Andrews Air Force Base, Md., going any place in the world.
Beun said the last time he counted he had been to nearly 60 countries. What makes his travels all the more interesting is that he, like the other 6 on the
team, is a traditional airman. He said his civilian employer, the Mount Laurel Police Department, has been very supportive of his regular deployments around the globe. In fact the Mount Laurel Police have been doubly supportive of the 108th Ravens as a second member of the team, Master Sgt. Michael Rakauckas is also a member of their department.
"All of our families, employers and the wing have been very supportive and understanding, which is essential for what we do," said Moore. He cited his own employer, Blockbuster, where he is the regional manager for loss prevention for four states. When Moore returned from his two-year activation after 9/11, the company gave him a certificate thanking him for the time he spent helping to keep America safe.
According to Beun and Moore, 2-6 people are on a team for each trip and the team member can be left downrange with little guidance to perform their tasks.
"You may have a situation with civilians where you have to negotiate out of a escalating situation," said Moore. Once selected for Ravens training, airmen attend a two-week school at the Air Mobility Warfare Training Center, Fort Dix. Moore and Beun agreed that the school is physical, rigorous and intellectual.
Days start with a 4-6 mile run, followed by hours of classes, then more physical training – Ravens are taught hand-to-hand combat, along with doing hundreds of push-ups every day. "There are no days off, a number of night exercises and you learn to qualify with various weapons," said Beun.
The 108th Raven team currently has four other members; all but one has a civilian job in a related field. Master Sgt. Mark Bajada is with the Dover Township Police Department, Tech. Sgt. John Bunce is a police sergeant with Florence Township and Tech. Sgt. James Hancock is a DEA agent. Senior Airman Rajhun George is the only one on the team not working full-time in law enforcement, but since he is a student, maybe time will tell what his profession will be.