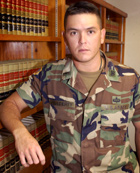 The New Jersey Army National Guard is looking for more than a few good men and women to fill 35 technical specialty and an expected six aviation vacancies in the New Jersey Army National Guard's Warrant Officer (WO) Corps.
People like the NJARNG's newest warrant officer, Patrick Daugherty. WO1 Daugherty, formerly a Sergeant First Class and the Chief Paralegal NCO in the JAG office graduated with honors from Warrant Officer Candidate School (WOCS) at Fort Rucker, Ala, May 20. Daugherty, a Woolwich Township resident in Gloucester County is a qualified Jumpmaster and a veteran of seven years with the Army and five years with the NJARNG.
The newest Warrant Officer described WOCS as both mentally and physically challenging and the toughest four weeks of training he has experienced in his military career to include airborne training at Fort Benning and jumpmaster school at Fort Campbell.
Now back home at the JAG office at Fort Dix, the AGR Legal Administrator will be busy assisting and managing the day-to-day operations of the Army's legal office that includes the AGR Staff Judge Advocate, the Staff Judge Advocate, five attorneys, a legal administrator, and a paralegal NCO. Daugherty attributes the JAG's ever increasing work load on the large number of mobilizations and deployments and the related need for increased numbers of pre-mobilization
briefings, wills, powers of attorney, family care plans; and assisting commanders and staff of the New Jersey National Guard and their families on diverse legal issues arising from mobilizations.
According to DA PAM 600-11, a WO is the highly specialized expert and trainer, who, by gaining progressive levels of expertise and leadership, operates, maintains, administers, and manages the Army's equipment, support activities, or technical systems for an entire career. Primary areas of WO specialties in the NJARNG include Personnel/Admin, Aviation, Quartermaster, Maintenance/
Ordnance, and Signal with plans to expand in Field Artillery and Military Intelligence.
Basic appointment qualifications for WOs include: minimum GT score of 110; must
meet height and weight standards of AR 600-9; be a U.S. citizen, or have entered the U.S. lawfully for permanent residence; possess or be able to obtain a secret clearance; be a high school graduate, or pass the GED; must be able to pass an AR 40-501 Chapter 2 Appointment Physical, and must have letters of recommendation specific to the requested WO MOS from Company, Battalion, and Brigade level Commanders.
Upon approval, ALL applicants must successfully complete a weekend Pre-Warrant Officer Candidate Course at Fort Indiantown Gap, Pennsylvania and will have two years after Federal Recognition as a Candidate to complete WOCS at Fort Rucker.
Graduates of WOCS are appointed as a WO1, and hold a conditional MOS 001A0. Rated Aviation graduates remain at Fort Rucker where they will complete flight school. Technical Service graduates return to home station, and then have two years to complete Warrant Officer Basic Course at the Proponent to become MOS qualified and retain WO status.
Soldiers that wish to pursue a warrant officer career should contact CW2 Glenn Eckenrode who was selected as the NJARNG's first full time Warrant Officer Recruiter. Chief Eckenrode can be reached via e-mail at glenn.eckenrode@us.army.mil.