The New Jersey Army and Air National Guard celebrated Unity Day on June 9, at the National Guard's Joint Force Headquarters at Fort Dix.
The theme for Unity Day 2005 is "Share Your Heritage With Us." Maj. Gen. Glenn K. Rieth, The Adjutant General of New Jersey was the keynote speaker.
"The military has been at the forefront of many major social changes throughout our nation's history" stated Maj. Gen. Rieth. "Our National Guard, New Jersey's Home Town Team, reflects America's many diverse cultures and ethnicities and truly represents all of New Jersey's many faces. Today is an opportunity to join together and celebrate the fact that regardless of where we come from, we're all proud to be Americans."
Originally the New Jersey Department of Military and Veterans Affairs had sponsored a number of different heritage celebrations. Unity Day brings this wide variety of ethnic and cultural celebrations together.
The program started with a drill team demonstration by the New Jersey National
Guard ChalleNGe Youth Program Cadets, bagpiper, multi-cultural displays and a truly unique multi-ethnic food sampling experience. Numerous displays featured African-American, Native American, Caribbean/West Indies, Filipino, German, Hispanic, Italian, Irish, Korean, Asian Pacific Islanders, Middle East and Dominican Republic cultures. Also, the Federal Women's Program, Buffalo Soldiers, Tuskegee
Airmen, Fort Dix ACS International, N.J. Army and Air Guard Recruiting, and the 108th Special Emphasis Program Managers participated in the program.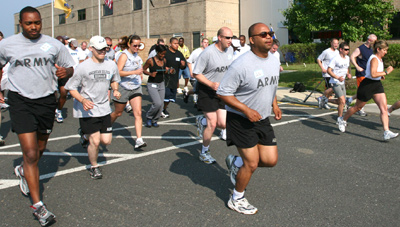 Unity Day began with a 5K Fun Run. Maj. Jesse Arnstein, 21st Civil Support Team won with a time of 18:03.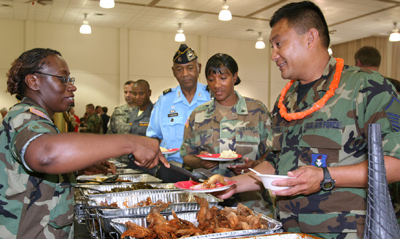 Everyone got the opportunity to try the new foods.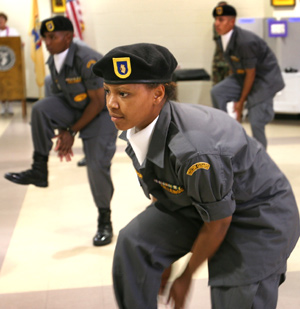 New Jersey's ChalleNGe Youth Drill Team performed for the celebrants.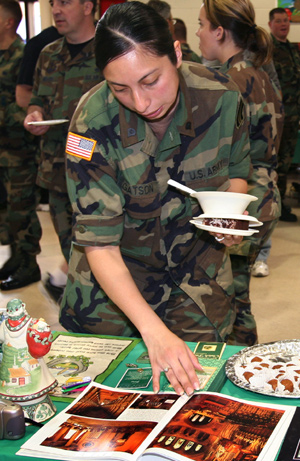 Numerous tables displayed a variety of materials on different cultures.