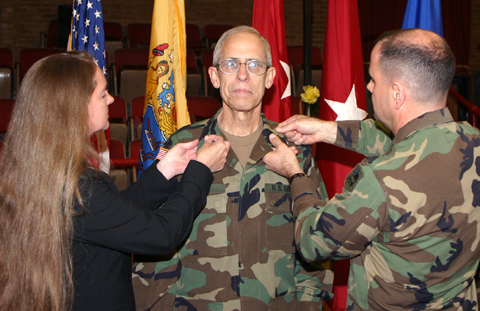 Col. Bell Promoted To General
Col. Steven L. Bell (center) is promoted to Brigadier General by his wife Cynthia (left) and Maj. Gen. Glenn K. Rieth (right), The Adjutant General of New Jersey, in a ceremony at the National Guard Armory in Lawrenceville on May 1. Brig. Gen. Bell is the Assistant Adjutant General, New Jersey Army National Guard. Photo by Sgt. 1st Class Robert Stephenson, NJDMAVA/PA.
--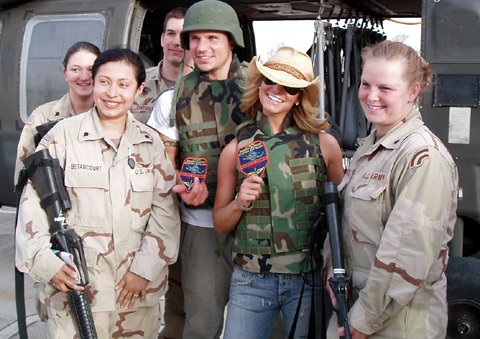 Jessica And Nick Visit GSAB
Jessica Simpson and Nick Lachey visited the 1st Battalion, 150th General Aviation Support during a USO tour in May. Pictured left to right: Spc. Heather Freeman, Spc. Juliette Bentacourt, Pfc. Mikel Ehntholt, Nick and Jessica and Spc. Candace Briggs. Photo courtesy 1-150th GSAB.
--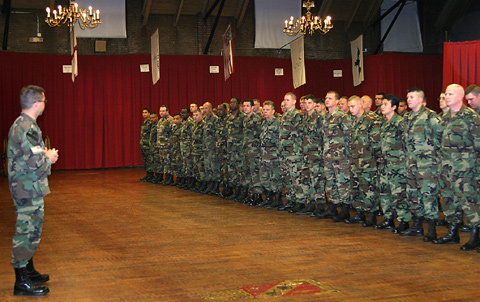 3-112 Receives DSM
Members of Battery B, 3rd Battalion, 112th Field Artillery received the New Jersey Distinguished Service Medal (NJDSM) in a special ceremony held in Lawrenceville June 4. The NJDSM, New Jersey's highest military award, was originally issued in 1858 but was infrequently used until reauthorized by Governor Kean in 1988 as an appropriate way to honor all of these returning combat veterans and acknowledge the debt the state owed them for their service. Photo by Lt. Col. Roberta Niedt, NJDMAVA/PAO.
--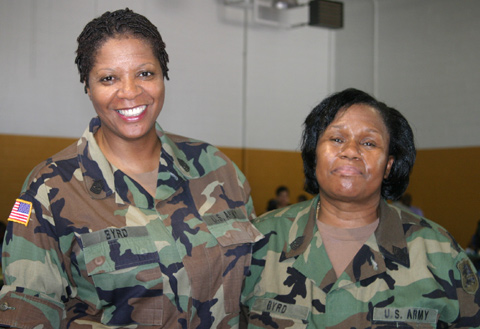 Byrds Flock Together
Sergeant Majors' Cora A. Byrd (left) and Vivian V. Byrd (right) - no relation, are serving together again at Joint Force Headquarters-New Jersey. The two attended Basic Training together in December 1977. Photo by Lt. Col. Roberta Niedt, NJDMAVA/PAO.
--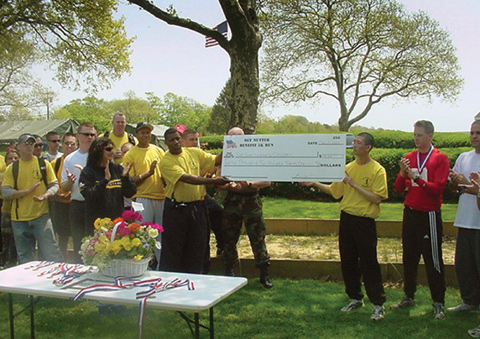 5K Nets 12K
On May 14, the 254th Combat Arms Regiment's Officer Candidate School held its First Annual Sergeant Sam Nutter Benefit 5K Run at the National Guard Training
Center at Sea Girt. The event was held in the memory of Sgt. Sam Nutter, an Officer Candidate of Class 47 who was diagnosed with terminal cancer and passed away on Jan. 2. The event raised more than $12,200, to be placed in a trust fund for Sgt. Nutter's three children. The amount exceeded the OCS TAG challenge by $2,200. The run, which was created by OCS Class 48, with the assistance of various other ARNG units and local corporations, will become an annual event passed on from the senior OCS class to the junior class. To learn about next year's event log-on to www.nutterrun.org. Photo by Eric Petrevich, Senior Officer Candidate, Class 48.
--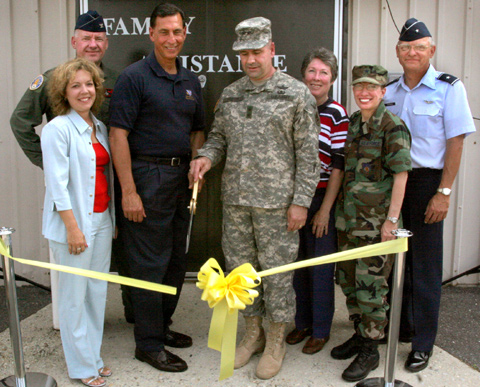 Joint Family Assistance Center
On June 11, the 177th Fighter Wing held a ribbon cutting ceremony for the new Family Support office. Pictured (l-r) Cheryl Betten, Col. Brian Webster, Commander, 177th Fighter Wing; Congressman Frank LoBiondo, 2nd Congressional District; Maj. Gen. Glenn K. Rieth, The Adjutant General of New Jersey; Maj. (Ret.) Joan Searfoss, Brig. Gen. Maria Falca-Dodson, Deputy Adjutant General and Brig. Gen. Eugene Chojnacki, Commander, New Jersey Air National Guard. In addition to housing the Air Guard Family Support office the space also has an office for a Family Assistance Representative from the Army Guard making this facility the first of its kind in the state of New Jersey. Photo by Tech. Sgt. Mark Olsen 177FW/PA.
--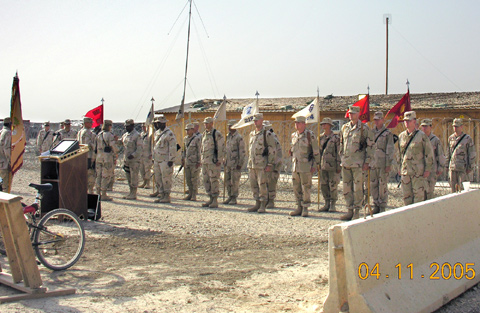 119th Receives COSCOM Patch in Ceremony
On April 11, Lt. Col. Sharon Tootell, Commander, 119th Corps Support Battalion, presented each Company Commander with a 1st Corps Support Command (COSCOM) patch. The combat patch will be worn by all the Soldiers as their Shoulder Sleeve Insignia For Former Wartime Service. COSCOM was formed in 1950 and serves as the Support Command for the 18th Airborne Corps. "When the country called on its military to fight for freedom, 1st COSCOM Soldiers have been ready to make the ultimate sacrifice to insure freedom's ring is heard all over the world," stated Lt. Col. Tootell. The 119th CSB is now a part of this proud heritage. Photo courtesy 119th Corps Support Battalion.