Guardlife - Volume 31, No. 4
57th Troop Command CSM: Mentorship
By Command Sgt. Maj. James Marshall, 57th Troop Command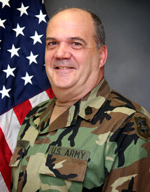 In the military, mentorship is an informal, personal and proactive commitment to foster growth in soldiers based on mutual trust and respect.
It is further defined as the "influence, guidance, or direction exerted by a mentor", and is a voluntary, developmental relationship between an experienced senior leader who is willing to provide career counseling and development to a younger, less experienced individual. This relationship is sustained through active listening, caring and sharing of professional knowledge and personal life experiences for the betterment of the individual.
We, as noncommissioned officers, have a mandate to cultivate our soldiers. Mentorship is the single easiest way to develop young leaders and should not be a hasty endeavor, due to the commitment necessary to promote learning and positively influence the next generation. Experience is the best teacher and we all
have experience to impart on those willing to learn. Mentoring is simply giving of your knowledge to other people. It is an enduring relationship, with frequency based on need, not predetermined events or time.
Mentoring begins with setting the right example, by showing soldiers a mature model of values, attributes and skills in action. It is a one-on-one approach to helping a subordinate grow into a superior leader. Mentorship is more than fulfilling a responsibility as a leader. It is providing our soldiers the opportunity to better themselves. After all, today's Corporals and Sergeants will be the First Sergeants and Sergeants Major of the future. Setting the example encourages them to develop their own character and leadership attributes accordingly.
The term "mentoring" is often used to describe a wide array of actions that are outside of a mentorship relationship such as counseling, teaching, coaching, role modeling, advising and guiding. Seeking advice or assistance from a mentor is not a sign of weakness, but is evidence of a desire to become a better soldier and leader. It is a proven approach and a valuable tool. No specific action is exclusively
" mentoring."
A mentor is someone you feel can be trusted with everything that is important
to you. I must admit that as a young soldier I was unaware of what a mentor was. But I would soon learn that my First Sergeant possessed all of the qualities of one. He had the experience, the knowledge and he cared enough to teach me how to "get it done the right way". He always took the time to share his experiences,
successes and failures alike, and some of his stories were the most powerful lessons I learned. Upon becoming a Specialist, he encouraged me to attend
our unit's varied social functions, instilling in me a sense of family and community among my fellow guardsmen. When I became an NCO, he shared his vision of how tasks could be accomplished and the means by which to reach those goals.
Over the years, we have developed a lasting relationship and, to this day, whenever I need advice I always know who to turn to - my mentor. I can honestly say that I would not be where I am today had it not been for his direction, counseling and leadership. Taking the time to reach out to others, share your life's wisdom, and convey your respect for them is possibly one of the most powerful ways to change the world, one life at a time.
We should remember that to be an effective mentor, all you need is experience, the wisdom of your years, and one other vital quality – you have to care!