Guardlife - Volume 31, No. 4
Farewell To Brig. Gen. Steve Bell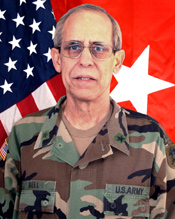 It is with deep regret that the announcement is made of the death of Brig. Gen. (Ret) Steven L. Bell.
Brig. Gen. Bell passed away on August 2 as the result of cancer. He last served the New Jersey Army National Guard as the Assistant Adjutant General – Army. Brig. Gen. Bell was employed by the Department of Military and Veterans Affairs as
the Deputy Executive Director of Homeland Security following a successful career with the Internal Revenue Service.
His noteworthy military career included assignment as the Chief of Staff, State Area Command; Chief Military Support Division; Commander, 42nd DISCOM and Commander, 250th Forward Support Battalion. The General was recently awarded the Legion of Merit.
His wife Cindy, daughters' Steffanie Jane Bell and Suzanne Erica Bell and a stepdaughter Michelle Clegg survive General Bell.