v32 n2 contents





177th Deploys to Balad Air Base, Iraq
Photo and story by Sgt. 1st Class Robert Stephenson, NJDMAVA/PA
An F-16C Fighting Falcon undergoes phase inspection before the next day's mission sorties.
More than 150 Airmen from the 177th Fighter Wing deployed to Iraq on Feb. 19. This contingent coupled with previous deployments brings the total to 229 unit members supporting Operation Iraqi Freedom at Balad Air Base in Iraq.

The deployments can last anywhere from 45 to 120 days. The 177th Fighter Wing combined forces with the 158th Fighter Wing, Burlington, Vt., and the 122nd Fighter Wing, Fort Wayne, Ind., to meet the Aerospace Expeditionary Force requirements.

The three units provided F-16C aircraft, pilots, maintenance and support personnel while assigned to the 332nd Air Expeditionary Wing at Balad Air Base. While deployed, the 177th will augment existing U.S. forces through the use of precision-guided munitions, enhancing the close air support mission of the 332nd Air Expeditionary Wing.

***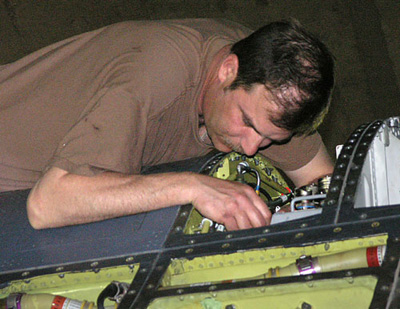 Master Sgt. Kenneth J. Krebs works on an F-16 during the inspection. Phase inspections enable crew chiefs and other maintainers to keep the aircraft flying through timed maintenance programs.
***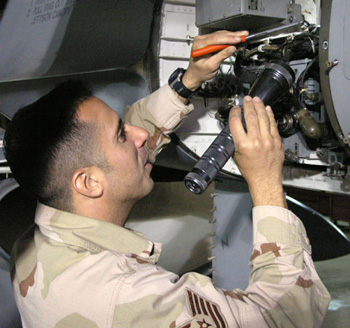 Crew Chief Tech. Sgt. Frank Spano checks the forward avionics bay on an F-16 during the aircraft's phase inspection.
***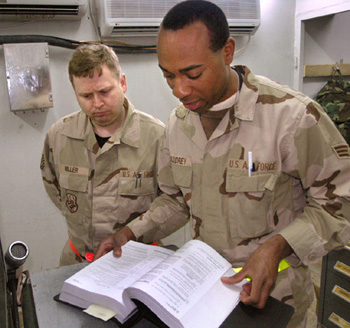 Left to right, Tech. Sgt. Richard Miller and Senior Airman Robert M. Maddrey, II check a technical order before beginning work at a test station.
***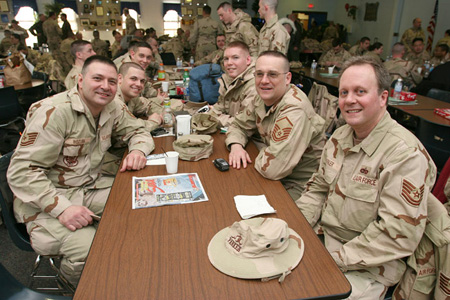 More than 150 members of the 177th Fighter Wing gathered at the headquarters for the deployment to Iraq on Feb 19. Photo by Tech. Sgt. Mark Olsen, 177FW/PA.