Freedom Salutes Honor Soldiers
By the Guardlife Staff
Three units were recognized for their participation in Operations' Enduring Freedom and Iraqi Freedom at the Flemington Armory on March 12. Members of the 150th and 350th Finance Detachments spent one year in Iraq supporting Operation Iraqi Freedom while the 444th Mobile Public Affairs Detachment spent more than 18 months stationed at Fort Dix, where they supported the Fort Dix Public Affairs Office. At a ceremony at the Hammonton High School, members of the 119th Corps Support Battalion were honored on March 11. The Soldiers and their family members were honored with flags and coins commemorating their service during the Global War on Terrorism.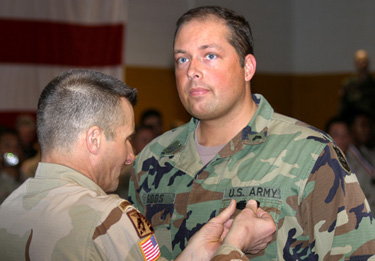 Maj. Walter Laskowski, Commander, 150th Finance Detachment, awards Sgt. Mark Gibbs, the Combat Action Badge. Photo by Spc. Sherwood Goodenough, 444MPAD.
***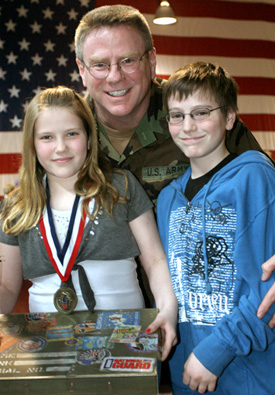 Staff Sgt. Joseph Donnelly, 444th Mobile Public Affairs. poses with his children Tess and Andrew. Photo by Spc. Sherwood Goodenough, 444MPAD.
***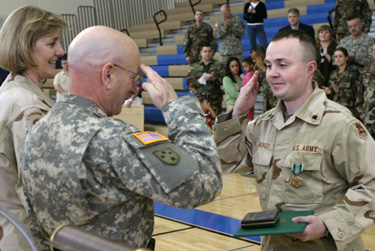 Spc. William Buckley (right), 119th Corps Support Battalion, receives the Army Commendation Medal from Brig. Gen. Frank Carlini (center), Deputy Commander, Joint Force Headquarters- New Jersey and Lt. Col. Sharon Tootell (left), Commander, 119th CSB. Photo by Sgt. 1st Class Robert Stephenson, NJDMAVA/PA.