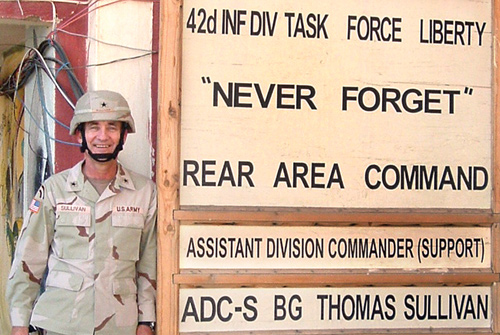 No matter what his rank was, from Airman to Brigadier General, for more than 39 years, you could always count on a smile and a kind word from Thomas J. Sullivan.
"It's not the job, it's the people I will miss," said Sullivan at his retirement party held at The Club on McGuire Air Force Base on June 11.
Sullivan's military journey started in 1967 as an enlisted Air Guard technician for five years before switching to the Army Guard to become a helicopter crew chief. He completed the Officer Candidate School program at the New Jersey Military Academy earning his gold bar in 1974. "I am very proud of my eight years of enlisted service and I am sure it made me more aware of the enlisted Soldiers' needs," noted Sullivan.
For the next 31 years Sullivan moved up the ranks, serving mostly as a full time national guard technician or AGR Soldier. He gained a wealth of experience that led to his greatest challenge as the 42nd Infantry Division's Assistant Division Commander for Support to Iraq.
"I never though I would be called to active duty as a National Guard General Officer at age 57 and sent off to war," explained Sullivan.
That deployment, which ended last March, was the culmination of a career that Sullivan said he could not have done without having a great team of professionals who taught him it is OK to have fun and enjoy your work.
By his side that evening was Sullivan's high school sweetheart and wife of 37 years, Jody, remarking that her love and support is a key to his success in the military.
Sullivan will still be close to the Guard family as he intends to play golf with the DMAVA Hackers at Fort Dix and as a civilian employee with Anteon; he will stay current with developments with the 42nd ID.