Guarding the Forces in Iraq
By Tech Sgt. Paul Connors, 177 FW/PA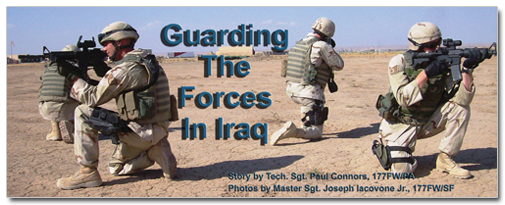 Fire Team Leader Staff Sgt. Jack Baum (facing left) conducts security halt with team members.
A drop of sweat falls off Staff Sgt. Jason Scalzi's nose as he peers intently through a pair of binoculars down a road in Kirkuk. Staff Sgt. Patrick Donohoe crouches next to him with an M-4 Carbine equally alert. It is hot and nasty, just another typical day here in Iraq.
A thirteen-person detachment – all volunteers – from the 177th Fighter Wing (Jersey Devils) Security Forces Squadron is currently assigned to the Quick Reaction Force (QRF) at Kirkuk Air Base, Iraq.
"The QRF is the only mobile response team available to respond to all points on base and outside the wire when needed," states Team Leader Master Sgt. Joseph A. Iacovone Jr. "Our responsibilities include conducting unexploded ordnance sweeps after rocket and mortar attacks, security sweeps and casualty evacuations and serving as a blocking force in the event of attacks or possible threat situations."
The team also provides protection for civil engineering and other base personnel on missions outside of the base's perimeter.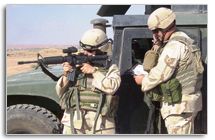 | | |
| --- | --- |
| | Senior Airman Tara Cullen (left) provides cover for Tech. Sgt. Bill Peters (right) while he updates the Base Defense Operations Center during unexploded ordnance (UXO) sweep. |
On occasion, this small group has also provided personal protection for visiting U.S. and Iraqi dignitaries.
The team's success comes from a combination of their Security Forces skills and training coupled with multiple previous deployments, as well as the extra advantage of civilian law enforcement experience. Seven members of this team are police officers. According to Iacovone, "The majority of our QRF operations are mounted patrols consisting of several fire teams working in coordination on up-armored Humvees." Each squad works a 12-hour shift and remains on standby during off-duty hours. Just recently two 177th Teams were sent outside the wire as part of a QRF mission to provide security for the wing commander, who was conducting a survey of the surrounding areas outside the base. Upon their return the commander coined each team member.
"This is definitely an exciting time for me," observes Senior Airman Walter R. Kienzle IV. "My buddies back home are sitting around bored and I am here making a difference." Scalzi echoes that sentiment: "I consider this opportunity an honor and I am proud to be able to serve my country, protecting the freedoms of the American people."
Home station training and recent instruction received at the Desert Warfare Center at Creech Air Force Base, Nevada prepared the Jersey Devils for their deployment to this war zone. "Since the start of this deployment my number one priority has been the safety and well being of my squad members, " says Iacovone.
When using the standard fire team configuration (four members per team equipped with an M-240B machine gun,an M-203 grenadier and an M249 SAW), each member is also equipped with an M-4 carbine and a M9 automatic pistol. Before deploying, every team member qualified on each of these weapons, ensuring that each of the 13 members can then be rotated to either fire team.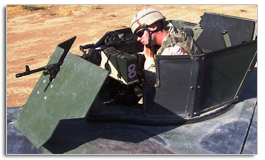 Staff Sgt. Shawn Reilly provides security while posted as a turret gunner during mounted patrol operations.
While there is a routine to security work, the serious nature of the mission means that discipline is the order of the day. Each day prior to receiving their assignments, the team reports to the armory for weapons and equipment issue. Immediately afterward, the team receives a briefing from Intelligence and stands guard mount. Information is all important and the team leaders and squad leader then prepare a detailed operations order. This is the process where the team receives its instructions concerning the upcoming missions they will be conducting. A final rehearsal or battle drill is then conducted by the entire team before leaving on their mission.
Recognizing the high level of continued performance by the Jersey Devils, local security forces leadership nominated Senior Airman Kienzle and Donohoe for Airman and NCO of the Month, respectively, while Iacovone was nominated as the Senior NCO of the Month. Additionally, Staff Sergeants' Gabriel R. Armstrong, Kevin C. Allman Jr., Scalzi and Donohoe netted a nomination for The Best Team Award for their Fire Teams performance on the QRF. Donohoe summarizes the team's accomplishments "Being a part of this highly skilled team, I know that any task, any time, any place we will get the job done. I base this on our high level of motivation, sense of pride in our jobs and outstanding team work."
Defensor Fortis.