Can you see me now?
By Sgt.1st Class David Moore, JFHQ-NJ/PA; photo by Kryn Westhoven, NJDMAVA/PA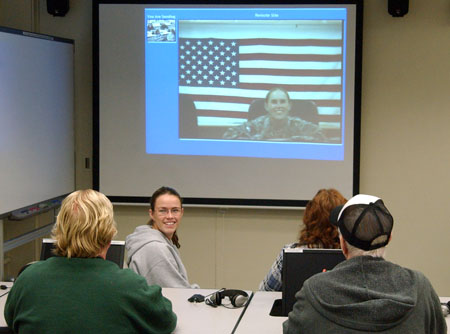 With the image from Afghanistan of her sister Sgt. Katherine Bendel in the background Angela Duiring shares a laugh with their dad Gary Hartman, grandfather John Diviny and mom Karen Hartman. The families participated in a Video Tele-Conference with the Soldiers of the 50th Personnel Services Battalion and 250th Personnel Services Detachment at the new Distributed Learning Center at the Lawrenceville Armory on Oct. 8.
The emotional distance was lessened for family members of Soldiers serving in Afghanistan when the New Jersey National Guard Distributed Learning leaders recently beamed their video teleconference signal from the Lawrenceville Armory to Afghanistan.

More than 30 family members of Soldiers from the 50th Personnel Services Battalion and 250th Personnel Services Detachment saw dads, wives, children and grandparents that included ranging from news from home to how's life in Afghanistan.

When Capt. Lowell Jenkins saw his seven-month-old daughter, Sidney, his emotion spilled over to happiness as the baby seemed to recognize him when she reached for the monitor screen.

Sidney was a premature baby born just before her father departed for his Global War on Terrorism duty. But the family had stressful times as their newborn had to undergo two surgeries.

The Guard's Family Readiness Group partnered with the Guard's Distance Learning Center team for the video reunions in October.

"We can't lessen the physical distance, but we can shorten the emotional distance between the Soldier and the family," said Lt. Col. (Ret.) John Guarascio, area coordinator for the Distance Learning.

The ability to use the distributive learning center's technology is a way of bringing the homefront closer to the Soldier, Guarascio said.

For the captain's wife, Tangies, the chance for mother and daughter to see their loved one was equally as emotional.

"While, you can here his voice over the telephone and e-mail pictures back and forth, you get to see him and he looks so happy when he saw us. It really is an added comfort to see him and have all the interaction with each other," she said.