Governor visits deployed Troops
Photos supplied by the Soldiers and Airmen of the New Jersey National Guard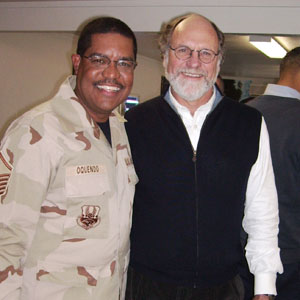 Special thanks to all the Soldiers, Airmen and their families for getting these photos to Guardlife. This page is dedicated to you.
Governor Jon S. Corzine, in his role as Commander-in-Chief of the New Jersey National Guard completed a surprise visit to New Jersey troops serving in Iraq, Kuwait and Afghanistan Nov. 28 through Dec. 1.

The Governor arrived in Kuwait Nov. 28. While there, he ate lunch with 81 Soldiers of the 102nd Reconnaissance, Surveillance, Targeting, Acquisition; promoted several Soldiers; was briefed by the U.S. Army Central Command; met with General George Casey; and Ambassador Zalmay Khalilizad, the U.S. Ambassador to Iraq.
The next day, Governor Corzine traveled to Iraq to visit with Soldiers of the New Jersey Army National Guard's 250th Brigade Support Battalion stationed near Baghdad. On Dec. 1 the Governor visited with 50th Personnel Support Battalion in Afghanistan.

"I am so proud of the men and women of our Armed Forces who are doing a tremendous job in extraordinarily difficult circumstances," Governor Corzine said. "They are putting their lives on the line every day to serve our country and help the Iraqis build their future. It was an honor to meet and spend time with so many of them."