Volume 32 Number 6 - Staff & Information

Cover: Honoring The Fallen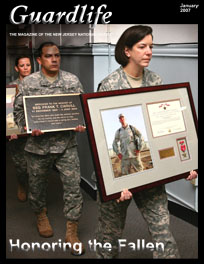 An honor guard takes the portraits and plaques of New Jersey's fallen to be installed at the Timmerman Center. Pictured are (front to back) Sgt. 1st Class Tracey Cianfrano, Master Sgt. Martin Sotomayer and Sgt. 1st Class Josephine Grey. Turn to page 6 for the story and more photos. Photo by Tech. Sgt. Mark Olsen, NJDMAVA/PA.

Click to download PDF version

Editors
Lt. Col. James Garcia
Capt. Jonathan Lapidow
Capt. Yvonne Mays
2nd Lt. April Kelly
Sgt. Maj. Anthony Cahill
Sgt. 1st Class Kryn Westhoven
Assistant Editor-Production
Tech. Sgt. Mark C. Olsen
Staff Writers/Photographers
Sgt. 1st Class Robert Stephenson
Staff Sgt. Barbara Harbison


Guardlife is published bi-monthly using federal funds under provisions of AR 360-1 and AFI 35-101 by the Public Affairs Office of the New Jersey Department of Military and Veterans Affairs for all members of the New Jersey Army and Air National Guard. The views and opinions expressed herein are not necessarily those of the Department of Defense, the Army, the Air Force or the National Guard Bureau.
Letters may be sent to: Guardlife, Public Affairs Office, P.O. Box 340, NJDMAVA, Trenton, NJ, 08625-0340. E-mail at: pao@njdmava.state.nj.us


Inside Cover: Diamond Formation
Staff Sergeants' Patrick Donohoe (front), Gabriel Armstrong (right), Kevin Allmann (left), and Jeff Tafrow (rear), all Quick Reaction Force members, form a diamond formation during Military Operations Urban Terrain training at Kirkuk Regional Air Base, Iraq. For the rest of the story turn to page 11. Photo by Master Sgt. Joseph Iacovone Jr., 177FW/SF.