500 promos in 90 days
By Kryn P. Westhoven, NJDMAVA/PA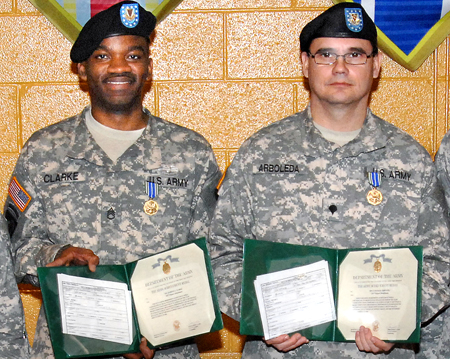 It has been said the only things certain in life are death and taxes. Promotion can be added to that list of life's certainties for Army Guard enlisted Soldiers in grades of Private to Private First Class.

A printed example on how well centralizing the promotion lists for private to to specialist has worked in the first 90 days can be seen by the 429 names listed on pages 20 and 21 that have sewn on new stripes.

"We just do a scrub asking if a Soldier good to go, do they meet all the criteria," said Sgt. Maj. Michael Zelenski as he talked about how the lists generated by the G-1 Personnel Section are reviewed monthly for the lower ranking enlisted.
The criteria Zelenski speaks of includes minimum time in grade, time in service requirements, along with meeting the height and weight, passing the APFT and drill attendance. After the list is generated, once a month Military Personnel Technicians and Readiness NCO's review it to ensure that every Soldier listed for promotion is eligible.

"The most common complaint by enlisted Soldiers is the
promotion system," said Lt. Col. Robert Niedt, who assumed the reins the G-1 section in the fall of 2006 with lower enlisted promotions being one of the top priorities.
Part of the problem for what can be called 'automatic' promotions in the lower ranks was due training for the unit Readiness NCOs. Until that training could get down to the units, it was decided that the G-1 could handle lower grade promotions.

"The bottom line is not that the G-1 did anything special," added Niedt. "We worked as a team with the field units to figure out what was the best way to take care of a Soldier and promote them so we can retain them."

Niedt's remarks that "It has been successful" are backed up by the numbers with 222 to promoted to Specialist, 98 moving up to Private First Class and 109 making the move from E1 to E2.

When you add the 78 other promotions from specialist and above, you get a total of nearly 10 percent of the enlisted Army Guard personnel receiving larger drill checks every month.
Finance Soldiers chosen as best of best
Winning the title of Soldier or NCO of the year for your battalion is no small feat, and the soldier who does so truly demonstrates their commitment to excellence. But when two soldiers from the same battalion go on to win the same title on a national level; perhaps the battalion itself deserves some of the credit.

That's exactly what two New Jersey Army National Guard Soldiers did.

Staff Sgt. Daemion Clarke, and Spc. Carlos Arboleda, both from the 50th Finance Battalion, were named Finance NCO and Soldier of the Year for the National Guard in January.

The 40-year-old Arboleda was excited and surprised to be the best out of 50 states and four territories to say the least, sharing those feelings with his NCO teammate. "I feel honored. I don't think the magnitude of the award has really sunk in yet," said Clarke, a 28-year-old Lawrenceville tax accountant.

To receive the award, both soldiers had to first prove that they were proficient not only in basic Soldier skills, but also in their MOS. "One of the hardest things was finding all the information about the history of the Finance Corps and competition. It elevates the standards for the National Guard." committing it to memory," said Clarke. Lt. Col Christopher Eads, Commander, 50th Finance Arboleda recognizes the importance of competition and Battalion, was more than pleased. the efforts the unit made to get himself and Clarke ready. "I "These two soldiers symbolize what the Finance Battalion think it's great that they (the battalion) started having this is about."