Short Rounds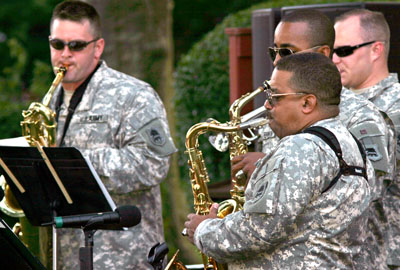 Jammin' at SG
Members of the 63rd Army Band sax section jam during an evening of music on July 6 at the National Guard Training Center in Sea Girt. Under the baton of Chief Warrant Officer 2 Durinda Garrison, the 37 Soldiers filled the evening with music ranging from standards to rock. The Soldier-musicians rearranged themselves into everything from a full orchestra to a Motown R&B band.. Photo by Lt. Col. James Garcia, NJDMAVA/PAO.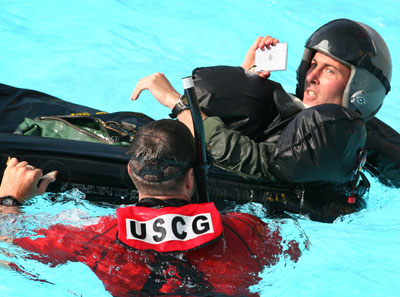 Splish, splash
Capt. Jason Halvorsen, a pilot with the 177th Fighter Wing, uses his mirror to signal for help during water survival training at Six Flags Hurricane Harbor in Jackson on July 17. The United States Coast Guard water survival specialists along with wing pilots trained at Hurricane Harbor because the wave pool gave a greater degree of realism to the training than a swimming pool. Photo by Tech. Sgt. Mark Olsen, 177FW/PA.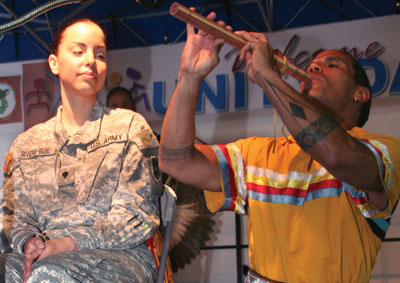 Unity Day serenade
Spc. Jacqueline Rivera-Buie (left), 250th Brigade Support Battalion is serenaded during the Unity Day celebration on June 14, at the Joint Training & Training Development Center on Fort Dix. This year's event, "Many Cultures, One Flag" highlighted the different ethnic and special emphasis groups represented in the New Jersey National Guard to enhance cross-cultural awareness harmony among all members of the New Jersey National Guard. Photo by Airman 1st Class Jason Hilliard, 108ARW/PA.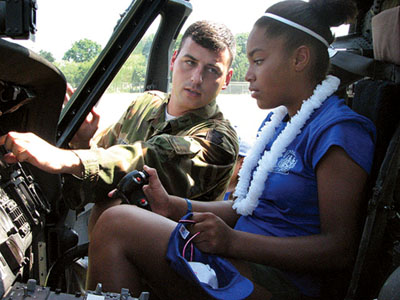 Pre-flight brief
Chief Warrant Officer 2 John Sodimon (left), 2-104th Services Support Battalion, explains the controls of a UH-60 Blackhawk to camper Jelisa Torres during the 13th Annual New Jersey National Guard Youth Camp at the National Guard Training Center in Sea Girt on Aug. 2. Photo by Spc. Mark O'Rear, 444MPAD.