Short Rounds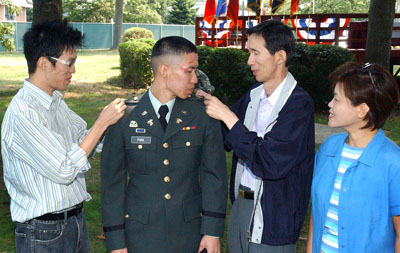 OCS at 50
Nineteen graduating Officer Candidate School (OCS) Class 50 Soldiers were joined by their families and peers on August 5 at the National Guard Training Center, Sea Girt. Along with the highest of expectations, OCS Class 50 also carries with them another distinction, the continuation of a tradition started in 1958 by the first graduating OCS class of the New Jersey OCS program. These second lieutenant's are the latest graduates in the tradition that has seen 2,827 gain their gold bar from the New Jersey OCS program. Photo by Spc. Pablo Vizcaino, 444MPAD.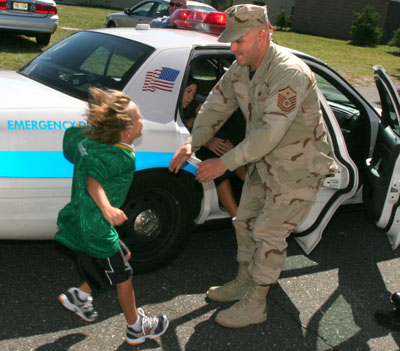 1st Sgt. Returns
First Sergeant Dan Mitchell, 177th Fighter Wing Security Forces, returns after a four-month deployment serving as the first sergeant with the 755th Expeditionary Support Squadron at Kabul, Afghanistan. Photo by Tech. Sgt. Mark Olsen, 177FW/PA.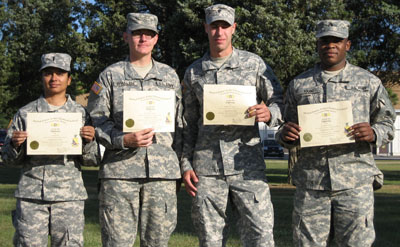 Newest CST Grads
The newest members of the 21st Civil Support Team (WMD) (left to right) 1st Lt. Sony Stab, Pfc. Jeffery Whalen, Spc. Michael Issenman and Sgt. Arnold Young graduated from the Civil Support Skills Course at Fort Leonard Wood, Mo., on August 30. The course teaches students the fundamental skills involved in civil support team operations, including blocks of instruction on anti-terrorism, chemistry, hazardous materials, and responder operations. Photo by Maj. Jesse Arnstein, 21CST(WMD).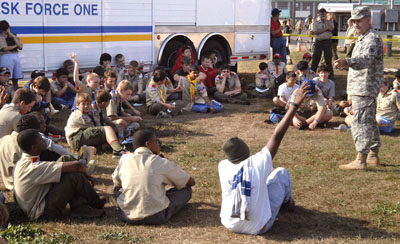 TAG addresses scouts
Maj. Gen. Glenn K. Rieth, the Adjutant General, speaks to Boy Scouts about their role in Homeland Security during the New Jersey State Police Boy Scout Camporee held at the New Jersey National Guard Training Center (NGTC) on Oct. 6-7. Approximately 9,000 Boy Scouts from all 21 counties converged on Sea Girt for the event. Not since the World War I mobilizations has Sea Girt seen this many tents. The Army Guard provided water trailers and personnel to keep them filled to ensure that that the Scouts were well hydrated at this, the largest encampment ever on the NGTC grounds. Photo by Kryn Westhoven, NJDMAVA/PA.