The Newest Oldest Private

By Maj. Carl A. Palmer, JFHQ-NJ/PAO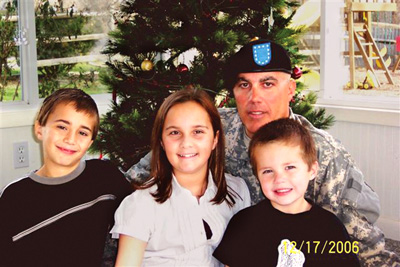 Pfc. Love with his children (left to right) Hunter, Samantha, Parker

When Soldiers refer to the old man, they are usually referring to their unit commander.
At Headquarters and Headquarters Company of the 1st Battalion, 114th Brigade located in Woodbury, just the opposite is true. One of the unit's newest members is 40-year old Private First Class Eric Love. Some people make big career choices early in their lives; some make them later.
Love got his first exposure to the military when he was in high school. "I had the opportunity to attend VMI (Virginia Military Academy)," he said. "It wasn't until a summer barbeque in 2006 that I met a recruiter who advised me the Army National Guard extended its age requirement to 42." He did his homework and discovered that the New Jersey Army National Guard had the most areas of interest and abundant benefits. Finally, he was able to fulfill his lifelong dream.
Love was in the middle of a civilian career transition when he spoke to his family about making this choice. "Initially, they thought I was joking," he said. "After several heartfelt conversations, they understood my reasoning and were fully supportive." His kids were more excited than his wife Jill was initially.
Jill's first reaction was "You gotta be kidding me!" Jill, a 43-year old sales representative with Radian Guaranty, later conceded that she had to support such a noble cause. She also admitted her husband had changed while away at training. "He lost weight and his grey hair…since it was shaved off," she joked.
His transition from civilian to soldier was quick as he soon shipped out to One Station Unit Training (Basic and Advance Individual Training combined) at Fort Benning, Ga. in September 2006. He was there until January 2007 learning basic and advanced infantry skills.
After sitting behind a desk or making presentations to Fortune 500 companies for most of his working life, he chose infantry as his military occupational specialty (MOS) in order to do something completely different. "I wanted to experience an area that would be demanding and challenging," said Love. "I wanted the toughest training the Army had to offer." When not in uniform, Love is currently the managing director for Elizabeth Neumann Company, a hospitality consulting firm. He has been in the hospitality industry for 20 years.
Most 40-somthings who are reading this article right now are probably wondering, "How can a 40-year old pull this feat off physically?" After all, Army Basic Combat Training and Infantry Advanced Individual Training (AIT) are very physical and are comprised primarily of 19-24 year olds. "Physically, Basic and AIT weren't that tough," Love claimed. "Keeping in shape all my life and staying healthy prepared me for the demands of daily activity." He scored a 285 on the Army Physical Fitness Test. "But I was hoping to obtain a 300!" he exclaimed. He was able to meet this challenge by following a daily routine of running, swimming, biking, and taking fitness classes.
Not only was a fitness regimen helpful before attending Basic, so were his 40 years of life experiences. "With age comes wisdom," Love explained. "The mental part of Basic wasn't as tough as it might be for younger recruits." Love's observation of today's youth has inspired him to redouble his efforts towards instilling positive values in his own children – Samantha age 12, Hunter age 10 and Parker age 4.
Just like many new recruits, Love is anxious to take advantage of the many benefits the N.J. Army National Guard has to offer. "I will certainly be utilizing the educational aspects, along with the GI Bill," said Love. "We have also signed up our 10 year old son to the N.J. National Guard Youth Camp at Sea Girt." Although Love already has as Associate's degree in hospitality, he hopes to use his N.J. Guard benefits for free education to help finance his Bachelor's and eventually a Master's degree.
When so many his age are retiring, where will his new part-time career opportunity take him? "I am getting educated on many different areas of interest that have me excited," answered Love explaining he plans on "serving my country and community for the next 20 years." Whether he plans on remaining in the infantry or takes advantage of other MOS fields, his future career path remains to be seen
Believe it or not, Love still has plenty of time to make these choices.