108TH AIR MAN RECEIVES FATHER'S FLAG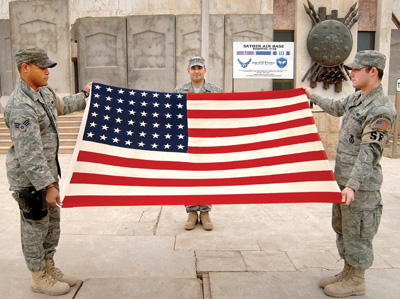 108th Security Force Guardsmen Staff Sgt. Harold Beard (center), and Senior Airmen Roberto Oquendo (left), and Timothy Delouise ceremoniously fold a 67-year-old U.S. flag flown here Dec. 7. The flag, a gift to Beard from his father-in-law, flew in Ohio on Dec. 7, 1941 in honor of the fallen at Pearl Harbor, on various U.S. Army posts in Europe during World War II, and on various military posts in Vietnam during the conflict. Beard flew the flag in Baghdad, Iraq, to commemorate its 67th birthday. More than 60 108th Airmen provide security for Sather Air Base, Baghdad, Iraq. (Photo by Staff Sgt. Jennifer Lindsey, USAF)
SATHER AIR BASE, Iraq -- I recently received a piece of history in a care package from my father-in-law, Walter Omiecinski.
Inside the package, contained a 48 Star American Flag that was first purchased by Mr. Omiecinski's parents in 1940. The flag was first raised over Walter's boyhood home in Ohio on Dec. 7, 1941 in honor of the fallen at Pearl Harbor.
The flag was then given to an uncle, Bernard Omiecinski, who served as a U.S. Army sergeant during World War II. Bernard Omiecinski took it with him to every post he was assigned.
On Aug. 14, 1944 Sergeant Omiecinski was killed near St. Lo, France shortly after the D-Day invasion. The flag, along with his personal effects, were returned to the United States and back in the care of the Omiecinski family in Ohio.
In 1957, the flag was given to Walter Omiecinski, my father-in-law. Mr. Omiecinski, a Green Beret during Vietnam, and Purple Heart recipient, flew the flag at each post he was assigned during the conflict.
In turn, I flew the flag on Sather Air Base in Baghdad, Iraq on Dec. 7, 2007 -- commemorating its 67th birthday. It will be encased, and displayed in a special place in my New Jersey home.
I hope to pass it on to one of my children one day, and they can fly it at one of their military posts, which may not be long from now. My daughter, Courtney, recently graduated from U.S. Air Force Basic Training, and is currently attending technical school to become an intelligence specialist.