Lessons learned in Albania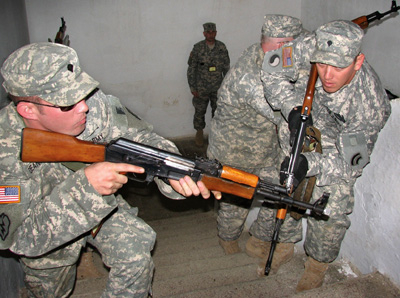 (From left, armed with AK-47s, Spc. Joseph DeAntonio, Spc. James Zeh, and Sgt. William Reid of the 2-113th Infantry demonstrate how to clear and secure a building while Sgt. 1st Class Edward Long watches, Zall Herr, Albania Oct. 24.)
In October select members of the 2-113th Infantry Battalion, participated in back-to-back multi-national training exercises in Albania. The Jersey Guard members joined 1100 military personnel from 23 countries participating in the Cooperative Longbow 07 (COLW 07) and Cooperative Lancer 07 (COLR 07) exercises.
Beyond assessing capabilities and interoperability, soldiers from all nations agree that many important lessons were learned and shared during both exercises. The friendliness and openness of both the 2-113th Soldiers and the international military members in sharing information and training techniques was instrumental in the lesson exchange.
One of the key lessons learned by all was differences in the role of NCOs in various countries. "Other countries do not leverage the chain of command the same way as the U.S.," said 1st Lt. Jason Cornell, 2-113th Infantry.
The only N.J. National Guard battalion to have participated in a live fire "shoot-house," the 2-113th Soldiers took the lead in instructing military operations in urban terrain (MOUT) on short notice to the exercise participants. The well conducted class in close quarters combat techniques was appreciated by the other military leaders. "You have to choose from whom you want to learn. When I choose, I choose American." said 1st Lt. Ervis Tusha, commander of Lion Heart Coy, 2nd Battalion, Rapid Reaction Brigade, Albanian Army.
Respect, one of the Army values, was another timeless learning of the U.S Soldiers taken away from the other nations. "They learned about the respect and how proud each Soldier was for his country, and the heritage of each…culture...and honor…and how proud they were of their lineage," said Capt. Nicholas Calenicoff, commander of C Company, 2-113th Infantry
Interwoven into the ongoing training of both exercises was a cultural exchange – another unique learning opportunity for all nations. According to Lt. Turan Samidli of the Azerbaijani Army, he learned about the American culture, while likewise relating the rich Azerbaijani culture. Despite the fact that there are different ways of training and working, Samidli added that "We can do something good for the world together."
Even with nearly two-dozen nations cooperating, communicating, training, and exchanging cultures, two simple messages convey the importance of this experience, and the lessons learned here. "This type of international training must be continuous," said Calenicoff. "You can take the best of training from every nation and put it together," added Spc. Peter J. Ashwell, 2-113th Infantry.