Cuello chosen as third top U.S. recruiter
By Pvt. Saul Rosa, 444MPAD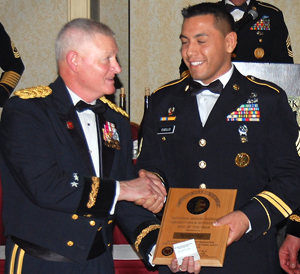 Staff Sgt. Juan Cuello (right) receives the Chief's 50 Award from Lt. Gen. Clyde A. Vaughn, Director Army National Guard, National Guard Bureau. Photo courtesy Recruiting and Retention Command.

Impeccably groomed, debonair and sociable, Staff Sgt. Juan Cuello is the ideal image winner for the Chief's 50 Award and the third most successful Army National Guard recruiter in the United States.
Cuello recruited more than 40 new recruits and prior-service enlistments out of the Cherry Hill Armory in 2007.
The Chiefs 50 is an award that is given to the top recruiter in the region and nation. The regional award is given to a recruiter within a certain region of states. The region that New Jersey competes in also includes Washington D.C., Delaware, Pennsylvania, West Virginia and Virginia.
The winners of the regional award then compete in the national competition. The recruiter is scored on the number of new enlistments and prior-service enlistments they obtain.
A sheer number isn't as simple as it sounds for recruiters. The act of recruitment is a dedicated and personal process that needs to be repeated with every recruit.
"Don't think of them as just a number. Take care of them; help them out," said Cuello, who tries to be friends, yet keep a professional relationship.
There also needs to be a certain degree of devotion and knowledge to enlist future soldiers.
"I'm a pretty aggressive recruiter. If you come into my office, I'll give you all the information you want, but if you're really ready to do this I want a commitment," said Cuello.
The main key to Cuello's success and recruiting is honesty. Recruiters have a bad name as liars and telling possible recruits what they want to hear, said Cuello, but everything with us is upfront and cut and dry, he added.
Honest and knowledgeable – it's not unlikely that Cuello will be seen amongst the most successful recruiters in the region, if not the nation, again next year.

CHALLENGE GRADUATES SIBLINGS

Photo and story by Kryn P. Westhoven, NJDMAVA/PA

When the 27th class New Jersey National Guard ChalleNGe Youth Program walked across the stage of the War Memorial in Trenton on March 1 there was something unique this group of cadets. Two pairs of brothers and sisters were among the 85 cadets accepting their high school diplomas.

For Edwin and Jennifer Castro of Bayonne; and Bernardo and Sofina Lopez of Cliffside Park the 22-week program was an opportunity for the siblings to grow closer.
"Before this program we used to talk but we were always fighting with each other," said Edwin. "But we are closer now, we are more like friends.
" For Jennifer it was like having a built-in safety net for when times got tough during the time away from home. "My brother helped me to stay here and kept me focused," stated Jennifer.
Cadets participate in a daily physical training; community service; vocational training and academic courses emphasize reading, writing, mathematics, computer skills, citizenship and social studies.