Finance Battalion returns to Flemington

On Jan. 27, 2005, 25 50th Finance Battalion Soldiers returned to their home station armory after successfully completing a yearlong deployment to Iraq.

The Battalion was instrumental in creating and maintaining the first Central Funding Facility in Iraq. The facility, which held more than $400 million in U.S. currency at any one time, was responsible for distributing both military and civilian pay to other finance battalions throughout Iraq.

Farewell Salute held for Finance Detachment

On Aug. 27, 2005, 250th Finance Detachment Soldiers completed preparations for federal mobilization and were honored in a Farewell Salute ceremonyat their Headquarters at the National Guard Armory in Flemington.

The 250th troops deployed to Iraq in support of Operation Iraqi Freedom.

N.J. Guard supports Katrina relief operations

A KC-135E Stratotanker departed the 108th Air Refueling Wing in September, transporting critically needed pallets of bottled water and personnel to the areas affected by Hurricane Katrina.

Nearly three dozen members of the 305th Security Forces joined the on-going relief efforts in the affected areas following the hurricane. In addition to these Airmen, the 108th flew multiple flights carrying humanitarian relief supplies, primarily water, to support the disaster response and recovery.

Master Sergeants' Jeff Redrup (left), 108th Air Refueling Wing and Pedro Rodriguez (right), 177th Fighter Wing, prepare donated water for airlift by the 108th at McGuire Air Force Base to BelleChasse Naval Air Station, New Orleans, on Sept. 7, 2005. New Jersey citizens, corporations and private organizations donated 3.5 million 16-ounce bottles of water in five days for their neighbors in New Orleans. Photo by Tech. Sgt. Mark Olsen, NJDMAVA/PA.

---

As the situation developed, the people of New Jersey began to donate needed items, principally bottled water. To better manage the outpouring of support, local armories were designated collection sites and aircraft and Airmen from the 108th and Soldiers from the 250th Forward Support Battalion headquartered at Sea Girt collected, packaged and delivered bottled water in response to the initial urgent request for potable drinking water.

The states impacted by this catastrophe assessed their circumstances, identified specific needs and requested additional support in the form of equipment and personnel under the Emergency Management Assistance Compact. Both New Jersey Army and Air National Guard assets were mobilized to provide requested assistance.

In a joint operation, approximately 3rd Battalion, 112th Field Artillery Soldiers were mobilized to transport and assemble 65 military tents and hundreds of cots in support of Life Support Operations in the affected areas. The 108th transported the troops and equipment to Naval Air Station New Orleans where the New Jersey Citizen-Soldiers erected tents and cots within the multi-agency response staging area.

As the relief efforts continued and the effects of the disaster became overwhelming, the NJARNG was tasked to deploy a task force to support the recovery in the Gulf State Region.

The Joint Training and Training Development Center, headquartered at Fort Dix provided the command and control structure for the120-member Task Force comprised of volunteers from across the New Jersey Guard. The Task Force drove south in a three day, 50 vehicle convoy and joined the relief effort immediately upon arrival in New Orleans. Guard Soldiers engaged in traffic control, supply distribution, transportation of medical support personnel and assisted law enforcement with anti-looting patrols. Task Force members were awarded the Humanitarian Service Medal and the Louisiana State Service Medal at the end of their near month long deployment.

First Lieutenant Vincent Caliguire (front), one of the 26 Soldiers of the 1st Battalion, 114th Infantry; who volunteered to serve with a Pennsylvania Army National Guard unit, is seen here during a lull in a battle with insurgents. Photo courtesy 1-114Infantry.

---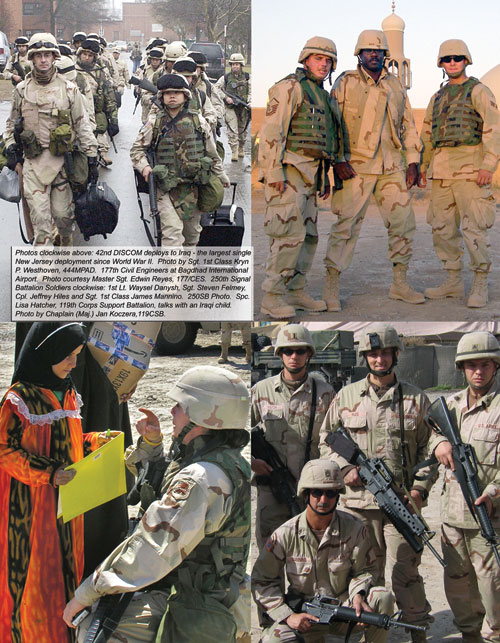 Photos clockwise above: 42nd DISCOM deploys to Iraq- the largest single New Jersey Deployment since World War II. Photo by Sgt. 1st Class Kryn P. Westhoven, 444MPAD. 177th Civil Engineers atr Bagdhad International Airport. Photo courtsey Master Sgt. Edwin Reyes, 177/CES. 250th Signal Battalion soldiers clockwise: 1st Lt. Waysel Danysh, Sgt. Steven Felmey, Cpl. Jeffrey Hiles snd Sgt. 1st Class James Mannino. 250SB Photo. Spc. Lisa Hatcher, 119th Corps Support Battalion, talks with an Iraqi child. Photo by Chaplain(Maj.) Jan Koczera, 119CSB.
---
N.J. mobilizes troops to support the Minnesota Army National Guard

The 148 Soldiers of Troop C, 117th Reconnaissance, Surveillance, Target Acquisition (RSTA) and Company D, 250th Brigade Support Battalion (BSB) were mobilized in September and October 2005 to deploy as part of the 1-34th Brigade Combat Team, Minnesota Army National Guard along with Company D, 250th BSB. Families of the 117th and the 250th Soldiers listened intently when President Bush addressed the nation about the war in Iraq on Jan. 11. Shortly after the President stated "I've committed more than 20,000 additional American troops to Iraq."

It was learned that the New Jersey Soldiers who had left Camp Shelby, Miss., in March 2006 would be extended in Iraq for up to 125 days. The Soldiers would be part of the troop surge that would help quell the sectarian violence that was threatening to rip apart Iraq's fragile democracy.

C Troop and D Company were the only New Jersey Army National Guard units extended as part of the 20,000 troop surge. Originally scheduled to return in March 2007, the Soldiers were reunited with their families on June 19 at National Guard Joint Training and Training Development Center, Fort Dix.

---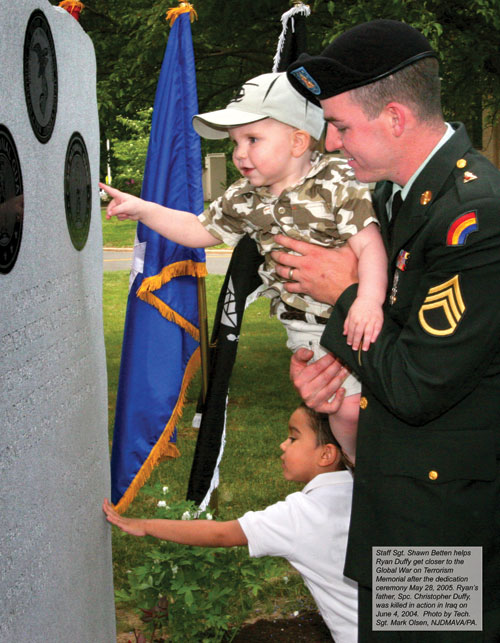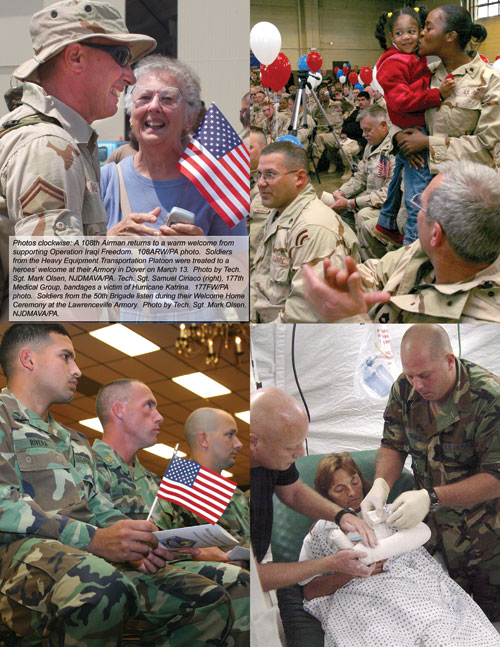 Photos Clockwise: A 108th Airman returns to a warm welcome from supporting Operation Iraqi Freedom. 108ARW/PA photo. Soldires from the Heavy Equipment Transportation Platoon were treated to a heroes' welcome at their Armory in Dover on March 13. Photo by Tech. Sgt. Mark Olsen , NJDMAVA/PA. Tech. Sgt. Samuel Ciriaco(right), 177th Medical Group, bandages a victim of Hurricane Katrina. 177FW/PA photo. Soldiers from the 50th Brigade listen during their Welcome Home Ceremony at the Lawrenceville Armory. Photo by Tech. Sgt. Mark Olsen, NJDMAVA/PA.
---
Finance Detachments return home
On Nov. 14, 37 Soldiers of the 150th Finance Detachment and the 350th Finance Detachment, 50th Finance Battalion, New Jersey Army National returned to their home station armory in Flemington after successfully completing their yearlong deployment to Iraq.

Staff Sgt. Clinton Valentine of Company D, 250th Brigade Support Battalion gets a warm welcome on June 19 as 148 New Jersey Army National Guard Soldiers returned from their extended deployment in Iraq. Photo by Kryn P. Westhoven, NJDMAVA/PA.
---
Welcome Home Ceremony for 119th Corps Support Battalion

On Nov. 21, 50 Soldiers of the 119th Corps Support Battalion, headquartered at the National Guard Armory in Hammonton, were welcomed home after successfully completing a 12-month deployment to Southwest Asia in support of Operation Iraqi Freedom.

While on deployment, the Battalion was responsible for providing logistical support to units in its area of operation. During the 12-month period, 17 subordinate units were assigned to the battalion, including Active Duty, National Guard and Army Reserve units.