The New Jersey Army and Air National Guard
By Lt. Col. Robert Schofield, JFHQ-NJ

The New Jersey National Guard consists of more than 8,300 members and is governed through the New Jersey Department of Military and Veteran's Affairs. Both the Army Guard and Air Guard have served and remain engaged in several Global War on Terrorism missions. New Jersey units have deployed to Oman, Turkey, Iraq, Guantanamo Bay, Afghanistan, Germany and Egypt in direct support of the war. Within the State of New Jersey, under the Governor's control, the Guard is routinely called upon to provide military support to civil authorities during civil emergencies, natural disasters and significant severe weather events. The New Jersey National Guard has also deployed to assist with the recovery from Hurricane Katrina in New Orleans and participated in Operation Jump Start to enhance border security in New Mexico.
Transforming to meet Contemporary Needs
While the New Jersey National Guard continues to be called upon to serve both State and Nation at an unprecedented operational tempo, both the Army and Air components are engaged in the U.S. Department of Defense Force Transformation. This modernization of force structure, operational concepts and capabilities are designed to enhance the Guard's role in protecting the United States against the contemporary asymmetric threats worldwide, preserving domestic tranquility and providing support to civil authorities in response to natural disasters and civil emergencies in the state.
The Army Guard transformation is centered on the Modular Force Conversion that is designed to create an agile, capabilities-based force to strengthen the Army's capability to fight the war on terrorism. Prior to this transformation, the Army was structured for major land campaigns against similarly organized forces. Recent experience shows that this is not the optimal structure for the threats of the 21st century. As part of the Army's modular conversion, the Army National Guard is restructuring its organizations to create forces that are more standalone and sustainable while enhancing their full-spectrum capabilities. The 50th Infantry Brigade Combat Team (IBCT) will be structured and manned identically to its active Army counterparts and can be combined with other BCTs or elements of the joint force, facilitating integration, interoperability and compatibility among all components. The 50th IBCT's modular organization provides a more flexible, more capable and more rapidly deployable force.
The New Jersey Army National Guard accelerated its conversion timeline, as part of the overall Army transformation plan, with completion moved from FY 2010 to the second quarter of FY 2008.
| | |
| --- | --- |
| The plan to accelerate the conversion of Army National Guard forces was officially approved as a part of the Army Campaign Plan and coincides with the deployment of the 50th IBCT. The accelerated conversion timeline also enabled New Jersey to acquire additional force structure and critical capabilities not organic to a modular IBCT. The organizational restructure will also enhance the Guard's ability to assist the state in the areas of transportation, communication and security. | |
The transformed New Jersey Army National Guard force structure is listed below.
New Jersey Army National Guard Major Commands
42nd Regional Support Group (RSG)
119th Support Battalion
253rd Transportation Company
150th Chemical Company
154th Water Purification Company
50th Infantry Brigade Combat Team (IBCT)
1st Battalion 114th Infantry Regiment
2nd Battalion 113th Infantry Regiment
3rd Battalion 112th Field Artillery Regiment
50th Brigade Special Troops Battalion
102nd Battalion (Reconnaissance, Surveillance,
Target Acquisition)
250th Brigade Support Battalion
57th Troop Command (TC)
218th Military Police Detachment Law & Order
328th Military Police Guard Company
Company C(-) 1st Battalion, 224th Support and
Service Battalion
110th Engineer Utility Detachment
254th Regiment (Combat Arms)
1st Battalion (Infantry)
2nd Battalion (Modular Training Battalion)
Regional Training Site - Maintenance (RTS-M)
Joint Training, Training Development Center (JT2DC)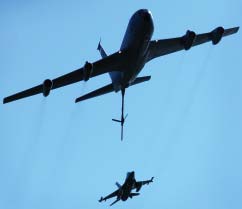 New Jersey Air National Guard Major Commands
The 108th Air Refueling Wing provides aerial refueling support worldwide. They fly the KC-135 R-model Stratotanker and are based at McGuire Air Force Base. The 108th's major subordinate elements include the 141st Air Refueling Squadron, the 227th Special Operations Flight, the 108th Contingency Response Group and 204th Mobility Air Force Intelligence Squadron.
The 177th Fighter Wing or the "Jersey Devils" is stationed at the Atlantic City International Airport. The 177th provides combat ready Airmen, aircraft and equipment for worldwide deployment in support of U.S. Air Force objectives. The Fighter Wing is made up of primarily F-16 Block-30 C/D aircraft which they fly to support the Air Sovereignty Alert (ASA) mission. The 177th's major subordinate units include the 119th Fighter Squadron and Warren Grove Range.
During statewide missions the 108th and 177th are tasked to protect life and property, provide disaster relief, and ensure public safety by deploying their unique capabilities including hazardous materials response, fire fighting, explosive ordnance disposal, civil engineering and security forces.
New Generation Warrior: from Strategic Reserve to a Fully Operational Force
In the initial seven years since the terrorist attacks on the American homeland, more than 6,000 New Jersey National Guard Soldiers and Airmen have been deployed in support of Operations', Noble Eagle, Enduring Freedom and Iraqi Freedom. Virtually all other Soldiers and Airmen have taken part in domestic operations ranging from infrastructure security, response to severe weather events in New Jersey as well as the hurricane ravished Gulf Coast region and border security in the Southwest. Between Sept. 11, 2001 and June 30, 2007, nearly 100 percent of the New Jersey National Guard have served on federal and/or state active duty in service to community, state and nation.
The New Jersey National Guard is made up of Citizen- Soldiers and Airmen who train regularly but maintain fulltime professions and occupations in their own communities. While they may be called up for domestic or international duties, the commitments they make are fundamentally different from those of their counterparts in the active-duty military forces, who for a stated period are full-time military career professionals.
While this is not the first time that New Jersey National Guard personnel have been deployed abroad, the missions undertaken by the New Jersey Citizen-Soldiers and Airmen are truly unique in the history of the Jersey Guard. This Guardlife Special Issue presents a picture of those who have fought in the Global War on Terrorism. It is also an account of the dedication and commitment of the men and women of the New Jersey National Guard in their service to community, state and nation beginning at the moment American Airlines Flight 11 flew into the North Tower of the World Trade Center.
Finally, this issue is dedicated to the Soldiers and Airmen of the New Jersey National Guard and their families.