Airmen sent to Southwest Asia
Two hundred 108th Air Refueling Wing Airmen were mobilized and deployed to Oman as part of Operation Enduring Freedom. Under this mobilization, Air Guard aircrew members, aircraft mechanics and support personnel were assigned as part of the Air Force's Air Mobility Command.
Their mission was to support combat missions with aerial refueling. These men and women are among the 108th ARW's several hundred Citizen-Airmen who mobilized in support of Operation Enduring Freedom, which generally refers to military operations in Afghanistan.
In April 2002, approximately 30 additional New Jersey Air National Guard Airmen deployed to Oman to relieve their fellow Citizen-Airmen who initially mobilized when the 108th was tasked to provide aerial refueling.
The 108th provided air refueling support and strategic airlift with 20 KC-135E Stratotankers, making it one of only three "Super (tanker) Wings" in the entire Air National Guard. The Super Wing status enabled the 108th to continue normal operations in support of routine worldwide military missions during its Southwest Asia deployment. The Wing's other operational locations included Germany, Spain, Italy, France, Kuwait, Japan, Korea, Panama, and to Turkey and Saudi Arabia to help enforce the no-fly zones over Iraq.
Guard Placed on alert for September 11 anniversary
Following the announcement on Sept. 10, 2002, by U.S. Attorney General John Ashcroft and Homeland Security Director Tom Ridge that there was a credible basis for increasing the threat level, Governor McGreevey directed the mobilization of more than 400 Soldiers to be prepared and available for rapid response to any incidents on the first anniversary of the Sept. 11 attacks.
Contingency force personnel were positioned at various locations to prepare equipment and establish communication networks to facilitate a quick reaction if needed.
Concurrently, 177th Airmen and F-16 Fighting Falcon aircraft were placed on federal active duty to fly CAP missions over the northeast including New York City and Washington, D.C.
The Army Guard mobilizes in support of Fort Dix Power Projection Platform
The 444th Mobile Public Affairs Detachment (MPAD) and the 150th Adjutant General Company were called to active duty to provide public affairs support and personnel services to the Soldier Readiness Processing and mobilization activities at Fort Dix. Fort Dix served as the northeast's principal Power Projection Platform responsible for mobilizing, training and certifying Guard and Reserve units for deployment to operational theaters.
The 444th MPAD covered the early stages of the most significant mobilization of the reserve component of the U.S. military since the Gulf War in 1991.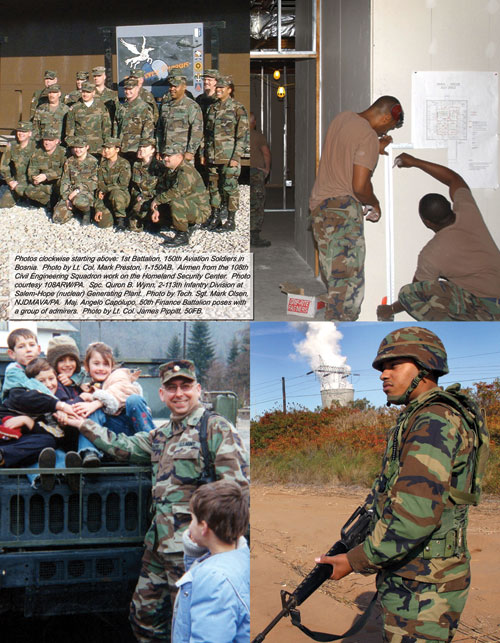 Photos clockwise starting above: 1st battalion, 150th Aviation Soldiers in Bosnia. Photo by Lt. Col. Mark Preston, 1-150AB. Airman from the 108th civil Engineering Squadron work on the Homeland Security Center. Photo courtesy 108ARW/PA. Spc. Quron B. Wynn, 2-113th Infantry Division at Salem-Hope(nuclear) Generating Plant. Photo by Tech. Sgt. mark Olsen, NJDMAVA/PA. Maj. Angelo Capolupo, 50th Finance Battalion poses with a group of admirers. Photo by Lt. Col. James pippitt, 50FB.