TAG's Message: The face of the New Jersey National Guard
By Maj. Gen. Glenn K. Rieth, The Adjutant General - New Jersey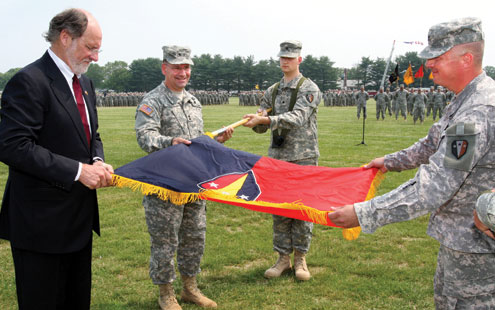 New battle crest: (l-r) Governor Jon S. Corzine, Maj. Gen. Glenn K. Rieth, Spc. Bill Addison and Col. Steven Ferrari, Commander, 50th Infantry Brigade Combat Team, unfurl the 50th's new battle flag during the Farewell Ceremony at Doughboy Field (see pages 6-7 for story more photos). Photo by Tech. Sgt. Mark Olsen, NJDMAVA/PA

During each one of my visits to our troops at Fort Bliss, Texas, I was continually impressed at the level of professionalism and motivation that I witnessed in each and every one of our Soldiers. Accompanying me on one of those trips was Governor Corzine. A strong supporter of the Guard, he admitted to being overwhelmed by the spirit and positive attitudes of the young men and women he spoke with. You can't help but be moved by emotion when you are in the midst of 3,000 of our troops–focused, dedicated, training hard and getting ready to perform a difficult task in a far away land.
I want to share a very poignant observation I made while traveling to Fort Bliss to visit the 50th Infantry Brigade Combat Team. Whether aboard the New Jersey Air National Guard KC-135 which flew us to Texas, on the ground with leadership from both the Air and Army sides of our organization, or walking among the Soldiers of the 50th, I noticed that the faces of the NJNG truly do reflect the face of New Jersey…and America. Diversity is one of the cornerstones of our military. Diversity brings a strength all its own to any organization that recognizes its benefits and embraces its culture. In the New Jersey National Guard, we have an obligation to recruit the best that our state has to offer. From every neighborhood…from every corner of the Garden State, the diverse pool of talent and patriotism that flows into the Guard helps to build a stronger, better, more adaptable force.
But we can't reach that talent through formal recruiting efforts alone. As strength continues to be a concern, I ask that each one of us become a recruiter. The Guard Recruiting Assistance Program (G-RAP) makes it possible for Traditional and retired Guardsmen to earn up to $2,000 for each new recruit they bring into the National Guard. Some units are having "Bring a Buddy to Work" Day or other open-house style events on base. This is an excellent idea and a good way to expose friends and neighbors to the many jobs available at our armories and bases. Talk up the Guard! Many civilians are unaware of the numerous benefits that service in the National Guard brings. They are surprised to hear about college tuition assistance, good pay, retirement benefits, and the many other plusses that come with wearing the uniform.
As the 50th IBCT departs Texas bound for Kuwait and then Iraq, let those of us back here continue to support their families and loved ones. Whether it's through our Family Readiness Groups, Family Assistance Centers, private organizations, or just neighbor-to-neighbor contacts, please do all that you can to ease the burden of these hometown heroes. The last thing a Soldier needs on their mind in a combat zone is to worry about a leaky faucet or an unpaid bill back home.
Take a look at page nineteen. I'm serious…stop reading this message and turn to page nineteen right now. It is loaded with information to help families. Earmark that page…cut it out and stick it on your refrigerator door…I don't care what you do as long as you keep it handy for the next time you or a fellow Airman, Soldier or family member needs assistance. And keep this number where you can easily find it: 1-888-859-0352. It's a good first stop when you're trying to get assistance and don't know exactly where to turn.
Remember that at any given point in time, there are scores of N.J. Guardsmen deployed around the world. Some are in large units like the 50th, some in smaller groups or even individually mobilized. Keep all of our deploying Soldiers and Airmen in your prayers. Keep supporting their families back here at home. And whether duty calls you to the Global War on Terrorism overseas or to a Homeland Security or Defense mission here in New Jersey, keep fighting the good fight. Together, we are an overwhelming force that can overcome any enemy…any disaster…and anything that comes our way.