Most mothers worry about their deployed sons or daughters. For one Army mom, separation will be less of an issue – she's deploying too.
This will be Sgt. Carmen Hernandez's, a licensed practical nurse, second deployment to Iraq as a medic, and the first with her oldest son. Sgt. Felipe Diaz, 29, is a squad leader in his platoon, and a Paterson police officer. The two Foxtrot Company, 250th Brigade Support Battalion Soldiers contribute to the growing number of family members who deploy together, and as one of the first mother-and-son "teams."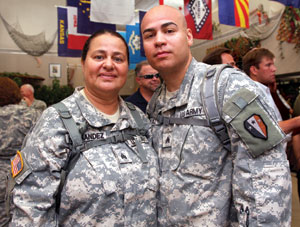 Sgt. Carmen Hernandez and her son, Sgt. Felipe Diaz at Fort Bliss, Texas on Aug. 1. Photo by Tech. Sgt. Mark Olsen, 177FW/PA.
---
"The hardest thing will be sitting there waiting for him to get back [from a mission]," Hernandez said.
Sometimes family members' deployments are coincidental, but brothers and best friends often enlist and/or deploy together and most dual-military couples manage to work out arrangements with their commanders. Military families tend to have multigenerational enlistees, including two of Hernandez's four children.
This mother-son combination is just one of several instances of close family members deploying together in the Brigade. There are five father-son pairs, 15 brothers, eight sets of brothersisters, one pair of twin sisters and 13 married couples.
She also got married last month to Sgt. Victor Hernandez who deploys with the 1-150th Aviation (Air Assault) next year. With her son and "a lot of young kids here," Hernandez wants to make Iraq a little more like home. She bought her own medic bag to fill with supplies for them, and is even bringing some pots and pans with her. But, Diaz added, "Mom said 'when you see me cooking, don't come over and ask for food.'"
The balancing act of being both a mother and a medic, however, is Hernandez's greatest concern. For instance, she doesn't want the other Soldiers to wonder who she would help first, if someone not Diaz had a worse injury, "God forbid if [someone else] gets injured with her son." "[Diaz] said to me, you stay in your lane, I'll stay in mine," Hernandez said.
FORT BLISS UPDATE


Photo left: Sgt. John Pongratz (left) watches as Pvt. Stefanie Scully, both with the 50th Infantry Brigade Combat Team, learns the proper way to perform a body search. Photo right: Pfc. Danilo Vargas takes down a "prisoner" after being sprayed with OC (pepper spray) during Detainee Operations Training at Fort Bliss, Texas. Photos by Tech. Sgt. Mark Olsen, 177FW/PA.