Families and friends of the 50th Infantry Brigade Combat
Team shed tears, blew kisses, waved signs and ended long embraces at 21 different armories across the state between June 19 to 25 as the Soldiers headed to Fort Bliss for a oneyear mobilization. Before saying goodbye they shared a meal prepared by the Family Readiness Group's before the troops went out the door. Photos clockwise starting above: Woodbridge Armory-Sgt. John Crankshaw, 444th MPAD; Jersey City and Lawrenceville-Spc. Abraham Pendon, 444th MPAD and Toms River-Spc. Robert Neill, JFHQ-NJ/PA.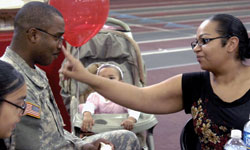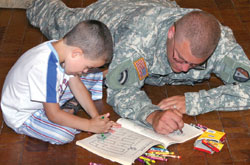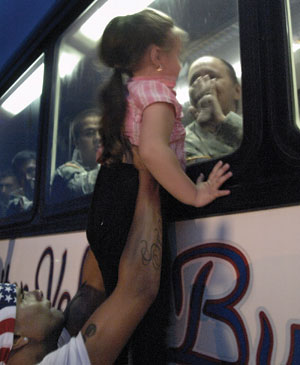 In the early morning darkness outside the Teaneck armory Spc. Yiesena 'Jessie' Nunez waves goodbye to her 3-year old daughter Mariah Ramero being held up the window by her brother Edwin Nunez as the bus prepares to leave for McGuire AFB. Sgt. 1st Class Kryn P. Westhoven, JFHQ-NJ/PA.