Patch Ceremony
By Spc. Bill Addison, 50IBCT/PA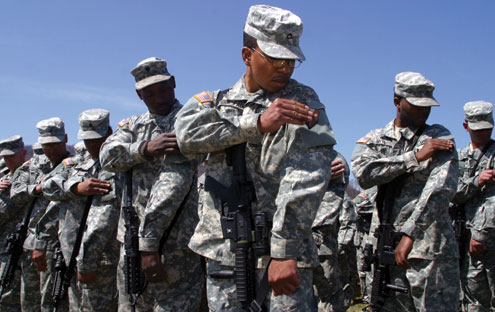 Pfc. Peterson Pierre-Paul, Foxtrot Company, 250th Brigade Support Battalion, affixes his new 50th IBCT patch in unison with his company members. Photo by Staff Sgt. Shawn Morris, 50IBCT/PA

"This day marks the beginning of the next chapter in the 50th Brigade's history."
On a sunny April 16 at Fort Indiantown Gap, Pa., Col. Steven Ferrari gazed out upon the 2,850 Soldiers under his command who make up the recently formed 50th Infantry Brigade Combat Team (IBCT).
The occasion marked Ferrari's first chance to see his whole infantry brigade combat team in one place since its official transformation March 1 from an infantry brigade. The ceremony officially welcomed and affixed the leftshoulder patch of the 50th IBCT.
"We are now a brigade combat team united by a left-shoulder patch," said Ferrari as he addressed the newly minted 50th IBCT Soldiers. "This left-shoulder patch is our common bond now – we stand as one."
Maj. Gen. Glenn K. Rieth, The Adjutant General of the New Jersey National Guard, kicked off the ceremony by patching Ferrari, who in turn proceeded to patch his brigade command sergeant major and battalion commanders.
"Today is truly historic and it's a privilege for me to be part of it," Rieth told the troops. "This is history and everything you do going forward is part of history."
The National Institute of Heraldry approved the new leftshoulder patch on Jan. 22. It is a tri-colored septigon with the traditional blue, yellow and red of the brigade's higher command, the 42nd Infantry "Rainbow" Division, and is also representative of the brigade's armor heritage. The insignia has three stars, which represent the brigade's heritage and as well as the brigade's home state, New Jersey, which was the third state of the union to sign the United States Constitution. The middle reversed triangular shape also suggests the letter "V" for victory.

The patch ceremony came at the end of the IBCT's three-week Annual Training that began March 28 and ended April 19.

Rieth congratulated Ferrari and his Soldiers for everything they've achieved during the process of transitioning from citizens to Soldiers.
"All of the reports I've gotten back about the brigade is that it wasn't just meeting the standard, it's exceeding standard."
"This brigade combat team is off and running and there's no question that whatever the nation asks of this BCT, you will fulfill the mission," he added.