BEST COMBAT FLYING - EVER
By Staff Sgt. Brian Carson, 108ARW/PA; photos courtesy 108ARW/PA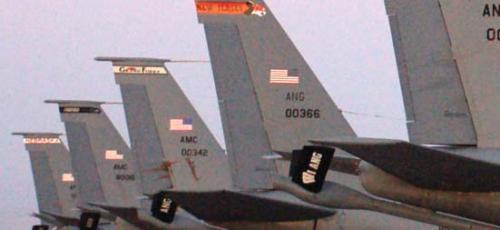 On Sep. 3, the 108th Air Refueling Wing Airmen returned from a deployment to Manas Air Base, Kyrgyzstan, in support of Operation Enduring Freedom. They were part of the 376th Expeditionary Wing that included four other Air National Guard units.
This was the 108th's first Air Expeditionary Forces mission with the newly acquired KC-135R.
The 108th's mission was to refuel the various coalition aircraft that were engaged in combat operations in Afghanistan. This was truly a "joint" mission as there were a number of active duty, Reserve, and National Guard units from different countries and states involved in this operation – France had a KC-135 stationed at Manas; Spain had a few C-130's, and F-16's coming from the Netherlands. Nebraska, Alabama, Wisconsin, and Tennessee also had tanker units taking part.
The 108th Airmen departed McGuire Air Force Base on July 21. During this time, each flight crew flew between 120-130 total hours, participated in 45 total sorties, including 40 combat missions over Afghanistan. Also, each crew offloaded more than two million pounds of fuel during the deployment.
"This was a really rewarding experience due to the mission that was being accomplished," said Lt. Col. Bruce Hamilton, chief of tactics. "We were refueling guys who were actually involved in the war and making a difference, which is a great feeling."
This sentiment was further echoed by Tech. Sgt. Samantha Gerofsky, a 108th boom operator.

"We had a direct impact on the combat operations in Afghanistan, particularly with refueling the planes in-theater and also with back-up radio communications," said Gerofsky. "We were able to keep the planes in the fight for much longer because we would refuel them on-scene."

Aircraft Commander Lt. Col. Paul Giblin put it succinctly: "This mission was the 108th's best combat flying ever."