New Jersey dedicated the New Jersey World War II Memorial, located across from the State House in Trenton, on Veterans Day, Nov. 11. From the 63rd Army Band to the flyover by the 177th Fighter Wing, Soldiers and Airmen from the New Jersey Army and Air National Guard were involved in nearly every aspect of the ceremony. The Memorial will serve as a fitting remembrance to honor the Greatest Generation and the New Jerseyans who made the ultimate sacrifice to save the world from tyranny.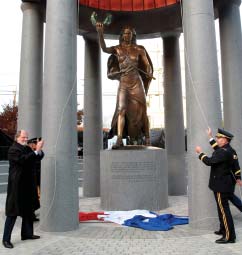 Above: Governor Jon S. Corzine (left) and Maj. Gen. Glenn K. Rieth applaud at the unveiling of Lady Victory.
Below: New Jersey Army National Guard Soldiers prepare to render a rifle salute.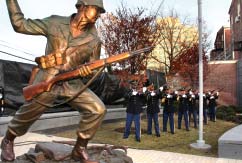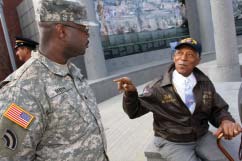 Above: Sgt Edward A. Smith (left), 444th Mobile Public Affairs Detachment listens to Tuskegee Airman George Watson Sr., 366th Air Service Group, U.S. Army Air Corps.
Below: Sgt. 1st Class William J. Crawford, 63rd Army Band, performs taps.
Bottom page: The 177th Fighter Wing performs the traditional Missing Man Formation at the close of the ceremony.