Short Rounds: New Commander, Honoring the fallen, Legal awardee, New friends, keys to the FOB and Taking a power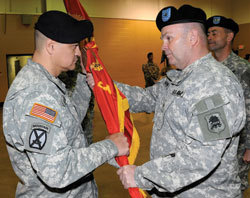 Alvarado to command schoolhouse

Brig. Gen. John Nunn (r), Assistant Adjutant General-Army presents the colors of the 254th Regiment to incoming commander Col. Walter L. Alvarado (l) during a change of command ceremony at the National Guard Training Center in Sea Girt on April 4. Alvarado replaces Col. James T. Corrigan, who served for the past two years as the commander of the schoolhouse. Photo by Spc. Robert Neill, 444MPAD.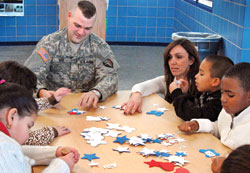 Making butterflies

Students from the Gloria M. Sabater Elementary School in Vineland, with help from teacher Connie Richmond and 2nd Lt. Richard Lee from E. Company, 250th Brigade Support Battalion work on the Butterfly Tree project. Children from 31 classrooms at the school decorated foam butterflies and dedicated each one to the memory of a fallen service member who served in Iraq or Afghanistan. The assignment culminated with the send-off on Jan. 23 of more than 580 butterflies for Arlington National Cemetery. Photo by Staff Sgt. Jerry Grant, 444MPAD.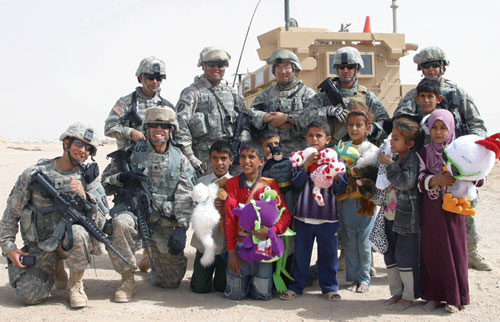 Armed with teddy bears

Soldiers of the 2-113th Infantry Battalion, New Jersey Army National Guard, pose with Iraqi children they gave stuffed animals to, near Safwan, Iraq, March 1. The humanitarian effort was spearheaded by Staff Sgt. Heriberto Maldonado, Bravo Company, with stuffed animals donated by his family and friends. Special thanks to Girl Scout Troop 269 of Glenrock, N.J.
Photo by Maj. Jason Fetterolf, PAO, 2-113th Infantry Battalion.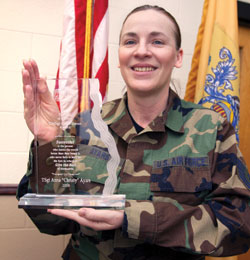 Ayars top ANG Paralegal of the Year

Tech. Sgt. Anna C. Ayars, 177th Law Office Superintendent displays ANG Paralegal of the Year - CMSgt Councilman Award. Ayars received the award on Jan. 23 at the Annual Survey of the Law Conference held in Denver. The award is presented annually to a member of the Air National Guard selected as the most outstanding paralegal of the year, based upon demonstrated superior job performance, exhibition of leadership qualities, significant positive self-improvement and contributions within the Air National Guard and the local community. Photo by Tech. Sgt. Mark Olsen, 177FW/PA.

Key to Freedom
Capt. Eric Montoya, (l-r) Forward Operating Base Freedom mayor; 1st Sgt. Charley Keuscher, deputy mayor; Col. Steven Ferrari, Joint Area Support Group-Central commander; present Mohammad Salman, national reconciliation liaison for the Government of Iraq; Ali Al-Yasri, director general of the prime minister's office operations, GOI, and Dr. Mawafek Al-Kuramanjy, director general of real estate of the General Secretariat, GOI, a key to FOB Freedom during a ceremony marking the property's transfer back to Iraq. Photo by Staff Sgt. Shawn Morris, JASG-C/PA.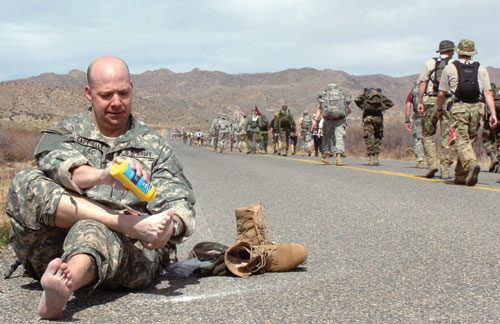 Foot Soldier
Master Sgt. Myles Cappiello with the Joint Training and Training Development Center, applies powder to his feet as participants continue along the 26.2-mile route of the 20th annual Bataan Memorial Death March, held April 6 at the White Sands Missile Range, N.M. An estimated 5,300 people participated in the event. Photo by Dustin Perry, Fort Bliss Monitor.