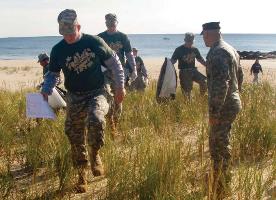 Staff Sgt. Peter Sarni, right, oversees Recruit Sustainment Program members as they comb Sea Girt beach for trash and recyclables during a beach sweep.

---
Pvt. Jan Hanna Huelgas joined the Army National Guard to protect her state and nation. She never expected to spruce up her favorite vacation destination.
The Soldier from Passaic was among 22 Recruit Sustainment Program members who spent Oct. 23, 2010 cleaning the beach at Sea Girt as part of a widespread effort to clean up the coastal waters of the Garden State.
"New Jersey is known for the shore. To keep it clean, and keep the community clean – with so many people coming here from other states – it makes us look good," Huelgas said as she sifted through the sand.
She had plenty of company. In all, more than 75 other volunteers including the Boy Scouts and members of community and environmental groups pitched in to help clean up the beach in Sea Girt.
In all, the volunteers collected more than 100 pounds of trash and recyclables – enough to fill 60 trash bags.
The beach sweep was one of dozens held up and down the Jersey Shore by the environmental group Clean Ocean Action (COA), a nonprofit organization that has conducted beach clean ups for a quarter century.
The recruits were there as part of Guard the Environment; a grass roots movement within the recruiting and retention community. Guard the Environment is a chance to showcase National Guard members participating in environmentally friendly activities and giving back to their local communities.
"The National Guard presence was most appreciated. What a great way to connect with the local community," said Tammy Schwier, a local realtor and beach sweep captain for COA.
Pfc. Dylan Averack, a recruit from West Windsor said he was proud to be a part of the beach sweep.
"It's great, we're cleaning up a beach that needs to be cleaned and we're helping out the local people," he said. "When I come out here fishing I'll see a clean beach and know that I was a part of that," he said.