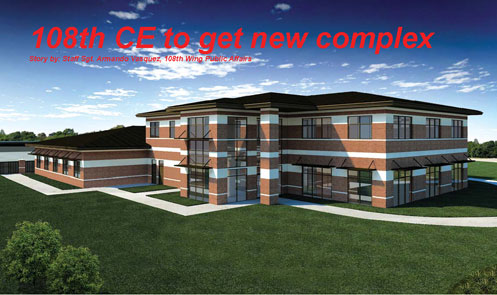 With white hard hats and silver shovels, the 108th Wing held a groundbreaking ceremony Dec. 21, 2010 to begin the construction of the 108th Wing Base Civil Engineer Complex on Joint Base McGuire-Dix-Lakehurst, N.J.
In attendance for the event was Army Maj. Gen. Glenn K. Rieth, the Adjutant General of New Jersey; Air Force Maj. Gen. Maria Falca-Dodson, the Commander of the New Jersey Air National Guard; Air Force Brig. Gen. Michael L. Cunniff, the Commander of the 108th Wing; Air Force Col. Gina Grosso, Commander of the 87th Air Base Wing; delegates from Senator Robert Menendez' offi ce, Ms. Scarlett Rajski and Mr. Richard Locklear, and other distinguish visitors.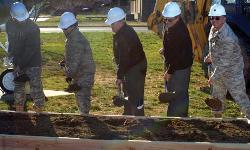 Breaking new ground, left to right, Maj. Gen. Glenn K. Rieth, the Adjutant General, far left; Maj. Gen. Maria Falca-Dodson, Commander, New Jersey Air National Guard; Brig. Gen. Michael L. Cunniff, 108th Wing Commander; a Puente Construction offi cial and Lt. Col. Paul E. Novello, 108th Civil Engineer Squadron Commander , start the process for the new 108th CE complex. U.S. Air Force photo by Master Sgt. Ray Knox, 108W/PA.
After thanking everyone in attendance, both Rieth and Cunniff told all in attendance that this was a long and overdue project and a most deserved one for the 108th Civil Engineer Squadron.
Lt. Col. Paul E. Novello, Commander of the 108th CES, also thanked everyone attending the ceremony and stated how he has been waiting for this new complex since his enlistment into the 108th Wing back in the '80s.
After having won the Major General Robert H. Curtin Award for the Air Force Outstanding Civil Engineer Unit Award in 2008 and then deploying to the Middle East from December 2009 through June 2010, there is no more deserving group of Airmen, said Novello about the new complex.
The $5.9 million project will replace the 108th CES' current facilities, which include four World War II temporary wood frame structures.
The 108th Wing Base CEC will support daily activities associated with maintaining/repairing base infrastructure and facilities for the 108th Wing, as well as the 108th CES' mobility and readiness requirements.
The contract for this project was awarded to Puente Construction Enterprises Inc., which is located in Woodbury, N.J., and is expected to take approximately 18 months for completion and be operational by April 30, 2012.