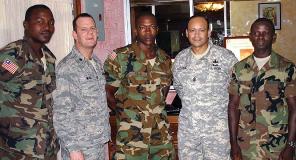 Lt. Col. Daniel Mitola, second from left, with his Armed Forces of Liberia legal team.
---
Imagine laying the legal foundation for a country.

That is the case for Lt. Col. Daniel Mitola, 177th Fighter Wing Judge Advocate General, who is currently serving in the Republic of Liberia as the Senior Legal Mentor in support of Operation Onward Liberty.

"There are about 50 of us here helping to guide a brand new Armed Forces of Liberia as the country attempts to rebuild after many years of civil war," said Mitola. "We are assisting the first law clerks and legal officers ever appointed to the AFL in administering a military justice system very similar to ours."

The list of the team's accomplishments is broad: They assisted in drafting a plan for providing logistical support for the national elections, they also helped in drafting military police standard operating procedures, and creating officer and enlisted leadership courses, which included courses on ethical decision making. They helped draft the AFL's Standing Rules of Engagement, which are the basis for their emergency response plan to aid civilian authorities during natural or man-made disasters. The team has also helped guide the Liberians through several major investigations.

Liberia has adopted the Uniform Code of Military Justice and Mitola's team helped train the first ever legal officer and legal clerks in administering military justice.

"Prior to implementing the military justice program, punishment and incarcerations were imposed in an arbitrary fashion, adversely affecting good order and discipline," said Mitola.

In his time-off, Mitola and his team visits a local orphanage to help out.

"There are about 50 children there from infants to teenagers," said Mitola. "We helped them with rebuilding their roof, but mostly bring candy and play with the children."
---