Around the 108th Wing, when one hears the name Master Sgt. Lisel White, the first thought that often pops into mind is, "singer of the national anthem." But she has a job in the 108th that touches every Airman and was recently given an award by the National Guard Bureau for her contributions.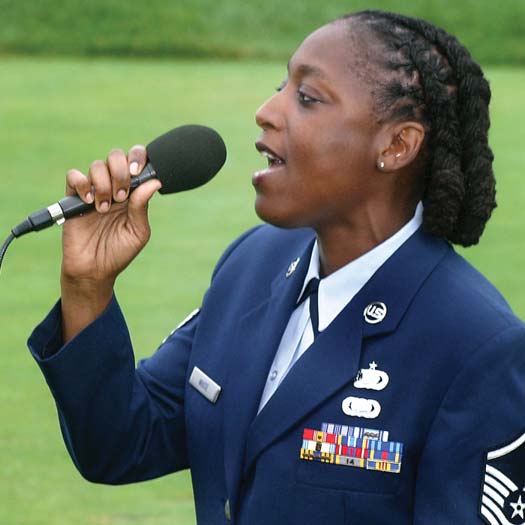 White was the recipient of the Equal Opportunity Professional of the Year Award that was presented at the 2010 NGB Equal Opportunity training workshop held in California on Sept. 2. This prestigious award is given to the Equal Opportunity Offi- cer or non-commissioned officer who has distinguished themselves through human relations and equal opportunity in the Air Guard.
A graduate of the Defense Equal Opportunity Management Institute, White has returned to the schoolhouse on a number of occasions to be an adjunct instructor for the reserve component course. The intense coursework focuses on many topics that make the students look at themselves and recognize their own personal issues and prejudices.
She said that it is exciting to see students get the "Ah Ha" moment – when they finally understand social issues from another student's perspective. "At that point, I feel like I have done my job," she said.
White says she was always one who looked out for people who had been mistreated; she believes in god and fair for all people.
"I got into a career field that I strongly believe in," she said. "I have a passion for it."
When being presented with the award, White's mother, who fl ew in from Georgia for the special occasion and her sister and brother-in-law, who live in California, joined her on the stage.
When she isn't busy singing at Wing events or working in the EO office, White is actively involved in the music ministry at her church, Living Faith Christian Center in Pennsauken. She is also the mother to three grown children, Elise, and twins, Salina and Steven. Steven is a master sergeant in the Air Force stationed at Wright-Paterson Air Force Base in Ohio.