ESGR visits CSSB at FIG
By Sgt. Wayne Woolley, Department of Military and Veterans Affairs Public Affairs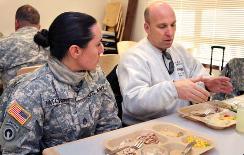 Staff Sgt. Lisa Hatcher listens to her boss Capt. Jeffrey Weiserth at the National Guard Training Center, Fort Indiantown Gap, Pa. U.S. Air Force photo by Master Sgt. Mark C. Olsen, 177FW/PA.
---
The four-member bicycle patrol unit of the Gloucester Township Police Department will be short one officer for the next year.

Officer Lisa Hatcher will become Staff Sgt. Lisa Hatcher and will be serving in Afghanistan with the New Jersey Army National Guard's 119th Combat Sustainment Support Battalion.

Her absence will leave a noticeable gap in the 99-member department.

"She is a great officer who has a real strong presence on the street," said her boss, Capt. Jeffrey Weiserth. "We'll just pull together when she's gone. Everyone knows what she's going off to do."

Weiserth took the opportunity on Dec. 8 to see exactly what his officer will do as a Soldier when she arrives in Afghanistan in February. He was among 19 New Jersey employers who traveled to Fort Indiantown Gap, Pa. on New Jersey Army National Guard helicopters for a trip sponsored by the Employer Support of the Guard and Reserve.

The federally-funded organization works to strengthen the bonds between employers and military reservists and organizes trips known as "Boss Lifts" to get employers to training sites where National Guard and other reserve units are making final preparations for combat deployments.

Lt. Gov. Christine Guadagno and Maj. Gen. Glenn K. Rieth, The Adjutant General, were on the trip along with state Sens. Diane Allen and David Norcross and Assemblyman Gilbert Wilson.

Rieth, the commander of the 8,300-member New Jersey National Guard, told the employers and lawmakers that Boss Lifts are a critical part of the effort to raise awareness among community leaders about the sacrifices made by Citizen Soldiers and Airmen.

"We are an all-volunteer force in a confl ict that has lasted nearly 10 years and will likely continue in some form for the rest of our lives," Rieth said. "In order to be able to serve, our Soldiers and Airmen need the support of their employers. It's critical."

Hatcher has the support of her entire department.

"They've been great," said Hatcher, who has been on the force in Gloucester Township for three years.

It will be her second deployment to a combat zone. A logistic specialist, she spent 2004 in Iraq.

"This will be a whole different environment with new challenges," Hatcher said. "But we're doing the kind of training we need to do to get ready."

At one point during the training, as her civilian boss, Weiserth watched, Hatcher led a squad of her fellow Soldiers at full sprint into an urban warfare training structure to practice techniques for how to enter a building filled with suspected insurgents.

"That's how she is on the street, no-nonsense," Weiserth said, after watching his officer bark orders and kick in a door to enter the building. "To see the training she and all these other Soldiers do to get ready, it's impressive."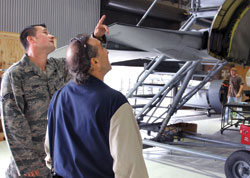 EMPLOYERS LEARN AIR DEFENSE
Senior Airman Anthony R. Guddo, left, a Flightline Mechanic with the 177th Fighter Wing, shows his employer Chuck Goushian the F-16 Fighting Falcon - the aircraft he works on at his other job. The 177th and the New Jersey Employer Support for the Guard and Reserve hosted a Bring Your Boss to Work Day on Oct. 1, 2010. Nineteen employers learned about the Wing's mission and the role that they as employers can play in supporting their Citizen Airmen and other members of the New Jersey National Guard. After the briefings and a base tour the Airmen took their employers to their work areas to learn about what they do on drill weekends. Photo by Master Sgt. Mark C. Olsen, NJDMAVA/PAO.