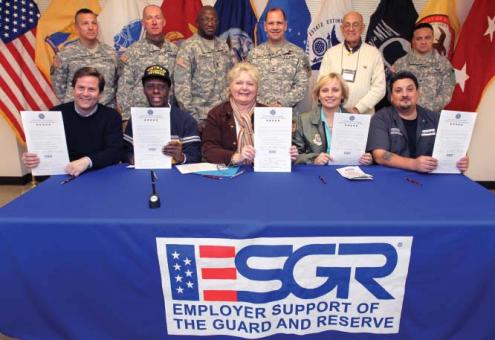 Signing Statements of Support for the Guard and Reserve are, front row left to right: State Senator Donald Norcross, Assemblyman Gilbert Wilson, State Senator Diane Allen, Lt. Gov. Kim Guadagno and Jim Lalena, Harris Tea Company. Back row, left to right: Col. Steven Ferrari, Chief Warrant Officer 5 Robert J. Richardson, State Command Sgt. Maj. Jerome Jenkins, Maj. Gen. Glenn K. Rieth, retired Col. Carmen A. Venticinque and Col. Walter Alvarado. The signing ceremony took place at the National Guard Training Center at Fort Indiantown Gap, Pa., on Dec. 8, 2010. U.S. Air Force photo by Master Sgt. Mark C. Olsen, 177FW/PA.
---
New Jersey has a long military history. From the Revolutionary War to present day, the state of New Jersey and its Citizen-Soldiers have supported our state and nation's military efforts.
During the Revolutionary War, New Jersey played a pivotal role. Numerous battles were fought in all 21 counties and Gen. George Washington spent more time in New Jersey than anywhere else during the war. New Jersey's strategic location, between New York City and Philadelphia, made it a center of Revolutionary War activity.
In World War II, New Jersey citizens contributed mightily to the war effort, providing critical materials and manpower as more than a half-million New Jersey citizens enlisted. More than 13,000 made the ultimate sacrifice.
As a result of our long military history, New Jersey is home to more than 465,000 veterans representing all components and branches of service.
The heirs of our proud military history can be found in the men and women who comprise our New Jersey Army and Air National Guard. You stand ready to leave the comforts of your home to help fellow New Jerseyeans, and to defend our nation's interests, bringing peace and hope to people throughout the world.
The Guard is no longer a strategic reserve, but an operational force directly integrated into active duty deployments and missions. The role of the New Jersey Army and Air National Guard is to meet the needs of the future force, giving us an enhanced capability to respond to any state and federal mission.
Despite our operational tempo, we continue to remain at more than100 percent strength. This demonstrates your commitment and understanding of the significant contributions and sacrifices made by you and your families. Each one of you and your families are a valuable asset to current and future military operations.
From our inception as a recognized organized militia in 1668 to present, Citizen-Soldiers of the New Jersey Army and Air National Guard continue to have a positive impact on our state and nation. From the beginning, our ranks were filled by volunteers who relied on their communities for support. Today, nothing has changed. We continue to rely on volunteers and community support. Make no mistake, our volunteers and communities are our greatest strength and the source of our obligation to duty.
By teaming with professionals, civic leaders and our communities, our organization has been expertly assisting our Soldiers and Airmen transition back to civilian life after deployment cycles. The entire organization continues to work tirelessly to improve the lives of the men and women willing to sacrifice everything for our state and nation. I will continue ensuring that each Soldier, Airmen, and their families receive the support they deserve with the same respect and honor in which it was earned.
Reflecting on this past year, I would like to thank you and your families for playing vital roles in the New Jersey National Guard. Your collective efforts are directly linked to the accomplishments and successes of this great organization. Moving forward, I'm eager to continue our partnership as we begin the New Year.