119TH CSSB DEPARTS
Salute to the Troops
By 1st Sgt. David Moore, 444th Mobile Public Affairs Detachment Photo by Sgt. 1st Class Kryn Westhoven, Joint Force Headquarters Public Affairs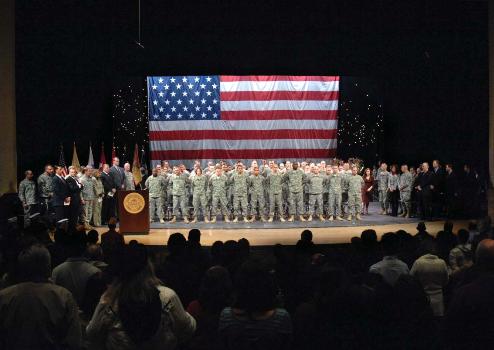 Three generations of former and present service members joined together with family and loved ones on Dec. 18, 2010 at Rowan University's Wilson Hall for the Salute to the Troops program recognizing 67 New Jersey Army National Guard soldiers of the 119th Combat Sustainment Support Battalion who will be heading to Afghanistan.
William Ray Miller, a Vietnam War Navy veteran and grandfather from Turnersville, looked down several aisles of auditorium seats and pointed to his son-in-law, Staff Sgt. Jeff Johnson, from there, he pointed to the stage where his grandson, Spc. Jeffrey Johnson, was sitting. He will be going to Joint Base Lewis-McChord, Wash., for training and then to Afghanistan.
"The military is a good honorable profession. I did not particularly care for what they threw at us in Vietnam, so I hope they throw nothing at my grandson. I have six people in the family now serving in the military. Right now I am looking at a very faithful grandson who I am sure will do well with his missions," Miller said.
Maj. Gen. Glenn K. Rieth, The Adjutant General, told the Soldiers to make the most of their training and to look out for each other when they land in the combat area.
"Be responsible for your 30 days of training. Be responsible in Afghanistan," he said.
Staff Sgt. Jeff Johnson is a recruiter. When he looked at the 119th's formation, he could spot six Soldiers he enlisted into the Jersey Guard, including his son, Jeffrey.
"I'm proud of him. He is willing to step up and take care of us and our nation," the recruiter said. "He is also setting the example for his brother, Timothy, who is coming home from Army Advance Individual Training tomorrow."
For Master Sgt. Daniel McCracken, of Little Egg Harbor Township, the event marks the fourth time he will serve on active duty. After serving on a homeland defense mission, he deployed to Iraq from 2004 to 2005, when it was known as the 119th Support Battalion. He spent three years as a mobilization trainer at Fort Dix, before deploying to Iraq with the 50th Infantry Brigade Combat Team from 2008 to 2009.
"You cannot look at a subordinate soldier in the eye and ask them to do something that you don't have the experience of doing yourself," he said.
Lt. Col. Walter R. Nall, Commander, 119th CSSB, and Sgt. Maj. John H. Humphreys, received an American Flag from congressional leaders Rep. Robert E. Andrews and Congressman-elect Jon Runyan. A state flag was also presented to the unit leadership by state Sen. Stephen M. Sweeney.













Photos clockwise starting top left: Maj. Gen. Glenn K. Rieth addresses the crowd. Above, two well wishers watch as the Soldiers march in. Bottom left: Sgt. Matthews Nufable, fourth from right, poses for photo with his family. Photo left: Lt. Col. Walter R. Nall, left, Commander, 119th CSSB receives an American Flag from congressional leaders Rep. Robert E. Andrews, second from right, Congressman- elect Jon Runyan, second from left, and State Senator and New Jersey Senate President Stephen M. Sweeney, right. Photo credits: top photo: Sgt. 1st Class Kryn P. Westhoven, JFHQ/PA; remaining images: Master Sgt. Mark C. Olsen, 177FW/PA.