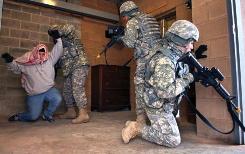 Staff Sgt. Lisa M. Hatcher, right, covers the door as Spc. Shawn E. Smith, second from right, covers Sgt William T. Eckstein, second from left, as he apprehends a role-player during urban operations training.
---
Soldiers of the 119th Combat Sustainment Support Battalion spent three weeks – from the end of November through December at the National Guard Training Center at Fort Indiantown Gap, Pa.

Of the numerous Soldier skills the 119th received schooling on while at FIG, none would compare to the intensity of the urban operations training at the NGTC's Military Operations on Urban Terrain site.

At the MOUT site, the 119th Soldiers learned everything from how UO is integrated into the overall campaign to kicking down doors, capturing the bad guys and securing buildings.

UO operations are prime examples of the asymmetrical battlefield and encompass all mission aspects ranging from offensive, defensive to civil support.

Former Marine Corps Commandant General Charles C. Krulak described urban operations as "The Three Block War."

"In one moment in time, our service members will be feeding and clothing displaced refugees—providing

humanitarian assistance. In the next moment, they will be holding two warring tribes apart—conducting peacekeeping operations— and, finally, they will be fighting a highly lethal mid-intensity battle—all on the same day…all within three city blocks."

The 119th troops spent their days at the MOUT site interacting with role-players and while in the background the Muslim call to prayer and other sounds associated with villages in Afghanistan were broadcasted over speakers.

This immersion training not only gave the Soldiers a sense of what to expect but more importantly, how to stay alive.