Afghanistan bound
Photos by Master Sgt. Mark C. Olsen, 177th Fighter Wing Public Affairs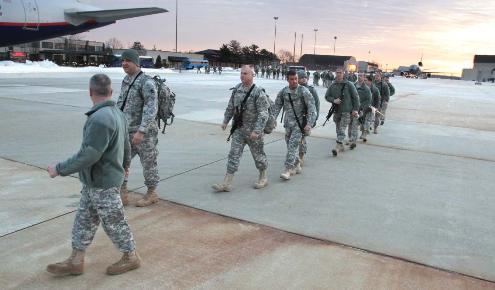 They poured out of the Joint Base Passenger terminal into the icy morning air, duffle bags in their hands and M4s slung over their shoulders.
For the 67 members of the 119th Combat Sustainment Support Battalion, the journey to Afghanistan began by boarding a plane on Jan. 4 bound for Joint Base Lewis-McChord, Wash. After a month of training, the unit will deploy to support Special Operations troops in theater.
"We will rise to the challenge," said Lt. Col. Walter Nall, the commander, as he gathered his gear to join his troops.

---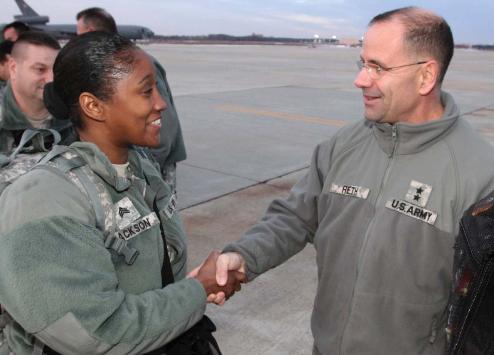 Maj. Gen. Glenn K. Rieth, right, The Adjutant General of New Jersey, shakes hands with Sgt. Piacenta M. Jackson, left, before she boards the plane. Rieth was joined by the New Jersey National Guard leadership in wishing the departing Soldiers a safe journey and a successful deployment.