Soldier gets a helping hand
By Sgt. Bill Addison, 444th Mobile Public Affairs Detachment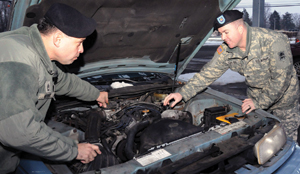 Sgt. 1st Class Jorge Vazquez, left, and Sgt. Michael Suplee inspect the engine of Suplee's 1993 Ford Thunderbird. Vazquez successfully nominated Suplee to the Advanced Auto Parts Makeover Contest for more than $3,000 worth of repairs on his vehicle, which now allows him to safely travel back and forth to work. (U.S. Army photo by Spc. Robert Neill, Joint Forces Headquarters-New Jersey Public Affairs)
---
It's been a rough few years for Sgt. Michael Suplee, a network support technician at Joint Force Headquarters.
A cancer survivor with mounting medical bills, Suplee has been struggling to support his family- a wife suffering from Lupus and a young daughter.
His main vehicle, a 1993 Ford Thunderbird, had fallen into such disrepair it was no longer safe to drive between his hometown of Maple Shade and Fort Dix. Suplee was praying for a miracle.
Little did he know, just down the hall Sgt. First Class Jorge Vazquez, information technology specialist for JFHQ was working to make those prayers come true. Vazquez had seen the condition of Suplee's vehicle a few weeks prior, and was concerned for his safety.
"I remember walking into the office and saying I think somebody abandoned a car in the back," he said.
It was Suplee's first week working in the shop, and he and Vazquez talked about the car, and quickly bonded over Suplee's story. Vazquez felt a connection with the younger troop and wanted to help.
"I was feeling his pain, I went through that. My first wife passed away in 2008 from cancer," he said.
Recently remarried, Vazquez and his wife Maria wrote into the Advanced Auto Parts Makeover Contest on behalf of Suplee.
Vazquez, a Browns Mills resident, used his prior experience as a mechanic to detail everything the Thunderbird required in the essay, as well as outlining Suplee's struggles over the past few years. In all, he estimated Suplee's vehicle needed approximately $3000 in repairs.
It wasn't long after that Suplee was notified he was one of the 10 winners of the contest. According to a release from Advanced Auto Parts, the company recognized Suplee as a dedicated husband, father, veteran and cancer survivor whose family car was badly in need of service to return it to safe driving conditions.
"We are so happy to be able to recognize Michael and his family and we hope that this car makeover helps ease the burden and improves their daily lives," said Morgan Schafer, Regional Vice-President for Advanced Auto Parts.
Advance Auto Parts commercial accounts manager Kevin McClain then made arrangements for the work.
Now repaired, Suplee said the car runs better than it ever has, and he's certain the owner of the repair shop Jim Loringers put in more than the $3000 worth of work allocated for the winner.
"He must have put about $4,000 to $5,000 worth of repairs into it," he said. "I was extremely ecstatic. I had no idea how we were going to get that car fixed."
And while Suplee is thankful to the men and women of Advanced Auto Parts as well as Loringers for the work he put into his car, he is exceptionally grateful to the man who made it all happen.
"I would definitely say Sergeant Vazquez is a special guy. I would also say that being in the Guard plays a lot into it as well," he said. "We learn leadership traits and to look after each other like brothers and sisters in uniform."
And the Vazquez family wasn't quite finished in their efforts to help Suplee and his family. In December, Suplee was notified that his family would be the beneficiary of the proceeds from 2011's Nutter Run. Once again it was Vazquez and his wife who nominated him.
"I've been praying and it seems like doors are opening up," said Suplee. "This was a complete shock to me and it's a great honor to be associated with the Nutter Run."
"I can only imagine the stress he's under, with bills, and keeping food on the table and his wife's medical problems," said Vazquez. "It feels good to help. That's what we're here for- to take care of each other."