GUARDING THE ROAD
Soldiers save lives on their way to drill
Story and photo by Army Spc. Michael Davis, 444th Mobile Public Affairs Detachment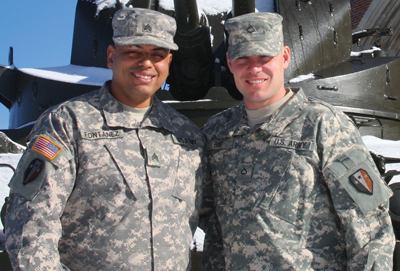 Sgt. Alex Fontanez, left, and Pfc. Ralph Bird, both 250th Brigade Support Battalion in front of the National Guard Armory at Teaneck
.
---
For Sgt. Alex Fontanez and Pfc. Ralph Bird, the early morning commute to the December drill began as so many before it; empty roads, groggy conversations and the soft hum of tires. It changed in a heartbeat when they saw flames shooting from a car traveling the opposite direction on the New Jersey Turnpike.
Neither said a word. Instead, Fontanez made a UTurn and Bird dialed 9-1-1.
"We got to the car and it was engulfed in flames," said Bird, a cook with Fox Company of the 250th Brigade Support Battalion, which is based at the Teaneck Armory. Fontanez is his team leader.
They approached the burning car, which had pulled off to the shoulder, and parked a safe distance away. As they exited their vehicle they could already feel the heat radiating from the growing fire and knew they had to act quickly.
"Bird is my right hand and go-to guy on my team; he knew just what to do," said Fontanez. The two soldiers acted in concert; moving swiftly to assess and control the situation. They helped the passengers safely exit the burning vehicle and placed them in their car parked far away from the scene.
Suddenly, they "heard tires blow out and then the whole car went up in flames," said Fontanez. With each passing moment the burning vehicle posed an even greater threat, so they turned their attention to the safety of bystanders and traffic still traveling dangerously close to the fire.
"We had to keep everyone safe," said Bird. "We kept control of traffic passing by, cordoned off the shoulder and kept control of the scene until the police and fire trucks arrived."
The New Jersey State Police commended the two New Jersey National Guardsmen for their heroic actions and ability to control an extremely difficult situation. But, these two soldiers don't consider themselves to be heroes or even feel that they did anything extraordinary. They credited their National Guard training with giving them the ability to remain calm and do what has to be done in any situation.
"The training carries over into our lives," said Fontanez. "Everybody has a job to do, and we did ours."
TAG visits N.J. Soldiers at GTMO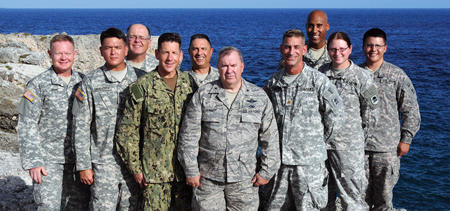 Brig. Gen. Michael L. Cunniff, the Adjutant General, center, visited Soldiers from the 444th Mobile Public Affairs Detachment, who are serving with the Joint Task Force-Guantanamo Bay, June 12-13, 2012. Pictured left to right are Sgt. 1st Class Jerry Grant, Chief Warrant Officer 3 Patrick Daugherty, State PAO; Sgt. 1st Class Kryn Westhoven, Navy Capt. Robert Durand, JTF-PAO; Sgt. 1st Class Robert Stephenson, Cunniff, Maj. Jon Powers, unit commander; Sgt. Landis Andrews, 1st Lt. Amelia Thatcher and Sgt. Saul Rosa, not pictured is Sgt. 1st Class Joe Donnelly. (U.S. Army photo by Staff Sgt. Lewis Hilburn/Released)