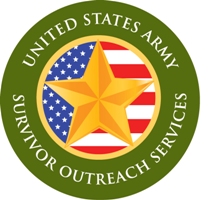 Mission Statement
To embrace and reassure Survivors that they are continually linked to the Military Family through a unified support program that enables them to remain an important part of the Military for as long as they desire.
The Survivor Outreach Services (SOS) program is an Army-wide program which demonstrates our commitment to Families of the Fallen. SOS is a holistic and multi-agency approach to delivering services to Survivors by providing those services closest to where the Families live.
What does the SOS program do?
Serves Military Surviving Families within the State of New Jersey:
- National Guard, Reserves, and Active Duty
- Provides information on the benefits and entitlements available to military Families
- Ensures access to all entitled benefits for Families
- Performs as an advocate on behalf of Survivors
- Provides basic budgeting/financial management resources
- Provides grief and bereavement counseling resources
- Provides estate planning resources
- Functions as long term support for Survivors
Upcoming SOS Events
None at this time. Check back soon!
Upcoming Related (Non-SOS Sponsored) Events
None at this time. Check back soon!
Who do I contact at the SOS program?
The Survivor Outreach Services Coordinator you should contact depends on the county you reside in:
Bergen County
Name: Raul Lopez
Phone: 845-938-5654
Essex, Hudson, Hunterdon, Middlesex, Morris, Passaic, Somerset, and Union Counties
Name: Jane Hackbarth
Phone: 609-496-9231
Email: jane.e.hackbarth.ctr@mail.mil
Sussex, and Warren Counties
Name: Linda Kerr
Phone: 570-615-6682
Cell: 570-234-4666
Email: linda.m.kerr.civ@mail.mil
Mercer, Monmouth, and Ocean Counties
Name: Wanda James
Phone: 609-562-4245 or 609-562-3797
Fax: 609-562-5148
Email: wanda.c.james4.mil@mail.mil

Name: Carz Craffey (SOS Financial Counselor)
Phone: 609-562-2186
Fax: 609-562-5148
Email: carz.l.craffey.civ@mail.mil
Atlantic, Burlington, Camden, Cape May, Cumberland, Gloucester, and Salem Counties
Name: LaShawnda Strother
Phone: 609-562-7892
Email: lashawnda.s.strother.ctr@mail.mil
Address:
New Jersey Military Family Assistance Center
1048 Route 206 South
Bordentown, NJ 08505
Who is my Gold Star Advocate?
Mr. Jackie McFadden
Phone: 210-466-1173