New Jersey – Albania State Partnership Program
"The State Partnership Program is, dollar for dollar, my best EUCOM investment."
– ADM Stavridis, EUCOM Commander
The National Guard State Partnership Program (SPP) is a U.S. Department of Defense program managed by the National Guard that links U.S. States with partner countries around the world for the purpose of supporting the security cooperation objectives of the geographic Combatant Commanders. By linking U.S. states with partner countries, the SPP aims to promote access, enhance military capabilities, improve interoperability and enhance the principles of responsible governance. Currently, 65 partnerships exist within six U.S. geographic Combatant Commands.
All SPP activities are coordinated through the geographic Combatant Commanders, the U.S. Ambassadors' country teams, the partner State, and other agencies as appropriate, to ensure that National Guard support is tailored to meet both U.S. and country objectives. Specifically, all activities must support the Theater Campaign Plan (TCP) as well as individual U.S. Ambassador mission plans in the countries where they operate.
Background

In 2001, The Republic of Albania signed a bilateral affairs agreement with the U.S. Department of Defense and the state of New Jersey thus officially establishing the New Jersey-Albanian State Partnership Program. Although the unofficial relationship actually started in 1995 with New Jersey sending advisor teams to Albania. New Jersey and Albania were paired because they share similar climate, terrain features and because of the large Albanian population within the tri-state area. The New Jersey National Guard works closely with the Albanian Ministry of Defense, Ministry of Interior, Ministry of Education and other governmental agencies. Types of cooperation include military-to-military, military-to-civilian, and civilian-to-civilian events.
The Republic of Albania continues to be a loyal ally to the United States and has deployed its troops in support of U.S. and NATO operations in Bosnia, Iraq, and on co-deployments with the New Jersey Army National Guard to Afghanistan.
Military to Military Events
After 2001, the use of traveling contact teams was introduced which included Albania sending representatives to New Jersey. In the last 5 years there has been a substantial increase of traveling contact teams which have focused on Leadership Development, Material Management, Administrative Programs, ISAF Deployment Preparation and Disaster Planning. The former Minister of Defense, Arben Imami, stated while visiting New Jersey that the State Partnership Program had a direct impact with Albania gaining acceptance into NATO. As both countries continue to lean forward to enhance relationships, the State Partnership Program continues to be the foundation and an example for all other programs.
Military cooperation events continue to focus on enhancing U.S. military standards and procedures, as well as enhancing interoperability between Euro-Atlantic and Albanian forces. Annually, the program continues efforts to expand beyond the military-to-military relationships. Civil engagement initiatives started in 2007 in the areas of law/police enforcement and fire/rescue and have begun to show tangible results.
Military exchange events in the past have included members of both the New Jersey Army and Air National Guard. Examples of this include: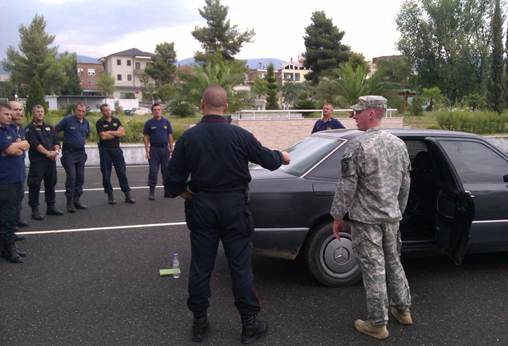 (SGT Nicholas Swineford, a MP with the New Jersey National Guard, assists in the instruction of a Personal Security Detail practical exercise with soldiers from the Albanian Military Police Battalion. This exercise was part of the MP Professional Development Traveling Contact Team which was conducted at Sauk, Albania in August 2013.)
Personnel from the 177th Fighter Wing (EOD) and 108th Air Refueling Wing (Medical) have been certified by the Humanitarian Demining Training Center in order to conduct Humanitarian Mine Action projects in FY13-15. The NJANG Medical Teams will familiarize Albanian medical forces on Basic/Advanced Lifesaving techniques and CASEVAC procedures. The NJANG EOD Teams will familiarize Albanian EOD forces on ammunition storage procedures, DEMO operations, and EOD safety standards.

The 254th Regional Training Institute has been conducting NCO/Officer Professional Development events for several years which have also included Albanian Armed Forces sending teams to the 254th RTI for instructor development. The 254th RTI is preparing to conduct an Officer Candidate Course (FY14-18) exclusively for Albanian candidates. This is a historical event for the National Guard, in the past the training and commissioning of Albanian Officers in the U.S. only occurred at Fort Benning's Federal OCS program and the United States Military Academy – West Point.

The NJNG Homeland Security Center has conducted several events in Albania with the Albanian Regional Support Brigade and has also hosted Albanian Teams. Disaster Preparedness events preserve strategic partnerships, build partner civil and military capacity to mitigate, prepare for, and respond to disasters and trans-boundary threats. The NJNG and EUCOM are preparing to conduct a Disaster Planning event (FY14) that would include NJ Office of Emergency Management specialists and Weapons of Mass Destruction experts.

The NJNG has conducted numerous administrative events with Albania in various areas of activity. Cyber Defense has been a recent effort with the NJNG G6 conducting multinational seminars which has included 14 European countries. Another recent effort has been Chaplaincy Development which has focused on Soldier Welfare processes and the Yellow Ribbon program. The NJNG Inspector General (IG) has been conducting events with their Albanian counterparts for a number of years. Human Resource Management was the topic of a recent event conducted by the NJARNG G1 section.

The ROTC Cultural Understanding and Language Proficiency (CULP) program allows cadets to experience up to 3 different venues during immersion, including humanitarian service, host nation military-to-military contact and education on the social, cultural and historical aspects of the country. The NJNG was approved to conduct the first ROTC CULP event in July 2013. Due to the success of this mission NJNG/AAF were approved to conduct the 9-week CULP program in FY14 with 50% of the 35 cadets to be NJARNG SMPs.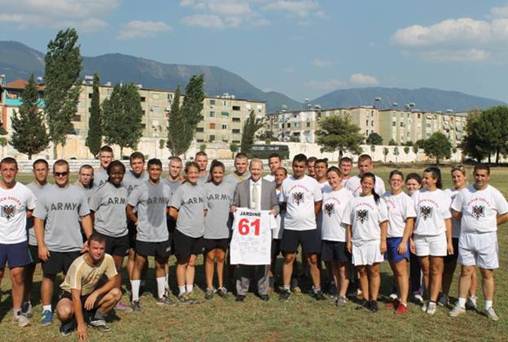 (US Embassy Deputy Chief of Mission, Mr. Henry Jardine, poses with ROTC Cadets and Albanian candidates after a soccer game. NJARNG cadre deployed to Albania with 12 ROTC cadets in order to conduct language training, cultural events and military training.)
Combined ISAF Deployments
The combined (New Jersey-Albania) Military Advisor Team (MAT) deployments in support of ISAF are the ultimate product of the State Partnership Program. The MAT deployment is an important part of NATO-ISAF's contribution towards the development of the Afghan National Army (ANA). They serve as a liaison capability between ANA and ISAF forces, co-coordinating the planning of operations and ensuring that the ANA units receive necessary enabling support. Three rotations have already been successfully conducted with MAT-4 currently in theater and MAT-5 in the preparation phase. Once both portions of the team are selected for deployment they conduct initial mobilization training within their respective country. Then they link-up as a joint team in Albania and conduct mission training. The MAT then moves to Germany (JMTC/JMRC) for advance weapons training and NATO certification. Once the combined MAT is certified by NATO the team deploys to Afghanistan for a 9-month deployment.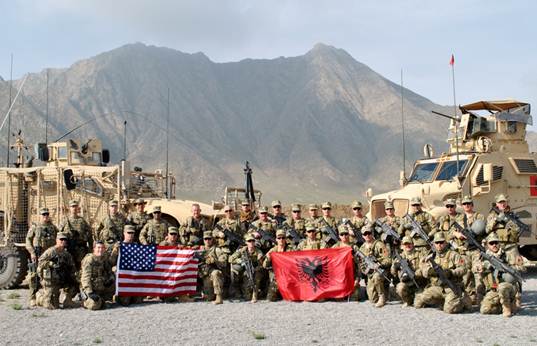 (A combined Military Advisor Team poses for a photo in Afghanistan. The MATs primary mission is to mentor Afghan National Army battalion and brigade level units.)
Civilian to Civilian Events
Law Enforcement / Fire Services / Education
New Jersey partnered with the International Criminal Investigative Training Assistance Program (ICITAP), a Department of Justice program assigned to the U.S. Embassy in Albania, to conduct law enforcement donation and training programs. The Bergen County Sheriff's Office has donated critically needed police equipment to the Albanian State Police for the last three years. Training programs have included K9 unit operations, Fire Rescue exchanges and most recently the NJ State Police conducted training with the Albanian Explosive Unit. Education programs have also been a product of this partnership; the Egg Harbor Township school district recently conducted a school supplies donation program and also conducts video teleconferences between NJ/Albanian students. The DARE program, introduced by the NJNG Counter Drug Program, has been a huge success within Albania by reaching over 12,000 Albanian children in the last five years.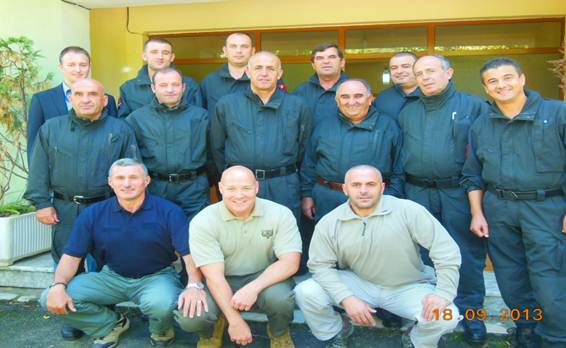 (New Jersey State Police Bomb Unit Commander, Sgt Dave Yusko, poses with members of the Albanian State Police Explosive Unit. Sgt Yusko traveled to Albania in order to conduct training on military ordnance handling, bomb threat response, K-9 sweeps, range operations, post blast investigation and VIP / Dignitary explosive security sweeps.)