Ocean County Donates $25k to WWII Memorial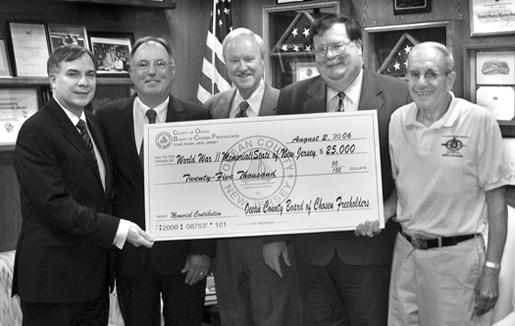 Deputy Commissioner Steve Abel (left) accepts a $25,000 check for the New Jersey
World War II Memorial Project from Ocean County Freeholders Gerry P. Little, John C. Bartlett Jr., John P. Kelly, and WWII Commission member E. Larry St. Laurent. Nationally, WWII vets comprise 15 percent of the veteran population, among New Jersey's population of 600,000 veterans, 30 percent are from WWII, a disproportionately high number in comparison to other states.
A recent Star Ledger Op-Ed on Memorial Day stressed that aging World War II veterans are not capable of raising and soliciting enough funds to build the memorial themselves. Also, due to the current New Jersey state budget, public funding is not an option.
Therefore, in order to honor those who served, we need the support of New Jersey's
corporations and citizens, like the Ocean County Freeholders, to make this memorial
a reality. For more information, go to NJ DMAVA's World War II Memorial website
or call (609) 530-7049.