VA health care available in South Jersey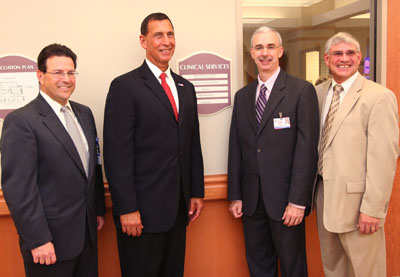 Health care is no longer a bridge and a state away for South Jersey veterans.
"Today is another good day for South Jersey veterans, who can now receive basic eye and ear care here at the Veterans Memorial Home in Vineland," stated Rep. Frank A. LoBiondo (R-2nd District). The Veterans Affairs (VA) Medical Center in Wilmington has set up optometry and audiology outpatient clinics at the Vineland Home for South Jersey veterans. VA medical staff will be available at the clinics twice a month. In addition, podiatry services are available one day a week through the Vineland Outpatient Clinic located at 1051 Sherman Ave.
Prior to this, veterans had to travel to Wilmington for even the most basic eye, ear and foot care. "We are able to bring these services closer to the veterans," said Michael S. Rybicki, Director, Community Based Outpatient Clinics, VA.
While optometry and audiology services have been available since 2006, the VA has increased its staff presence at the outpatient clinics. An additional part-time physician was added in April and a licensed practical nurse has been approved as well.
Since its opening in March 2006, the audiology clinic, which is open every other week, has seen more than 200 patients. Another major improvement in optometry services is that, beginning this July, "we have an electronic link with Wilmington," noted Steve Gallerizzo, Associate Director of Wilmington VA Medical Center. "(The optometrist) can access patient's medical records through a secure network link." So through the efforts of the Vineland Home, Representative LoBiondo and the VA, the growing outpatient needs of Vineland and South Jersey veterans are finally being met.