Hometown Heroes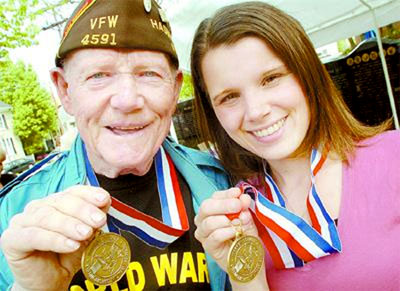 On May 12, Grandfather John Reed and Granddaughter Kristinia Steinmetz shared a moment and basked in the glow of their accomplishments.
Reed, a World War II combat veteran and Silver Star recipient and Steinmetz ,an Iraq veteran, draw close as they share family stories. The pair was honored at the annual Warren County Veterans Recognition Ceremony in Belvidere.
Veterans received the Warren County Distinguished Military Service medal, a matching lapel pin, and a certificate from members of the Board of Chosen Freeholders. The medal is an important symbol of a community's belated appreciation for the sons and daughters who gave so much in patriotic service to America.
Reed believes all combat veterans have suffered Post Traumatic Stress Disorder and now he prays that their families receive their rightful inheritance; "the wisdom and compassion forged from painful experiences." The inheritance he left for his granddaughter now will be left to her children, that inheritance will be the stories about the war. Stories shared with each other and the love instilled in them for all war veterans, you feel the compassion they share for others.
Hopefully their inheritance will inspire all.