Home health care study moves ahead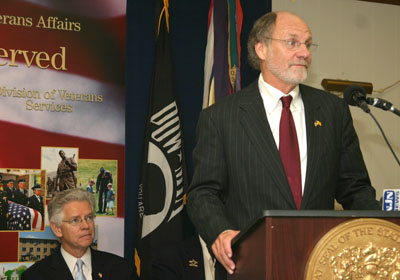 The Delran Veterans of Foreign Wars meeting room was packed. In the audience of Post 3020 members and guests was Al Bucchi, the New Jersey State VFW Legislative Director, who eagerly awaited the state's chief executive to bring him closer to a goal.
When Governor Jon S. Corzine signed legislation on August 3, requiring the Department of Military and Veterans Affairs (DMAVA) to evaluate the resources, costs and benefits of providing home health care aides for qualified veterans, Bucchi finally saw progress on what seem an impossible journey.
"I have been working on this for six years," said Bucchi. "For the past one and half years it has been a concerted lobbying effort."
Assemblyman Jack Conners (D-Camden, Burlington) joked that it seemed that Bucchi was in the his legislative office almost every day. Conners, who is Chairman of Assembly's Veterans Affairs Committee and one of the sponsors of the Home Health bill, has become friends with the dedicated veterans advocate.
"By working with Medicare, Medicaid and private insurance companies we aim to provide those alternatives in the future so veteran patients can remain at home where many prefer to stay and that is the reality," said Conners. "You don't even have to be a veteran to appreciate being able to stay home for as long as you possibility can and be with the people who love you."
The bill looks at possible options for veterans health care according to Governor Corzine. "These alternative programs have the potential to allow veterans to receive the care they need from the comfort of their home while at the same time reducing long-term care demands on the Department of Military and Veterans Affairs," added Corzine.
The legislation requires the Adjutant General of the Department of Military and Veterans' Affairs to examine and evaluate the resources available as well as the costs and benefits of providing home health care services to eligible veterans.
"We need to put money where our mouth is and make sure that our veterans can actually have a choice about how they are going to live out their lives," Corzine said. After a careful examination Maj. Gen. Glenn K. Rieth, The Adjutant General, will submit a report to the legislature detailing specific recommendations.
The report recommendations will include details on the allocation of state funds necessary to meet the demand for veteran home health care services and plans for working with Medicare, Medicaid, Department of Veterans Affairs and private insurance companies to provide alternatives to veterans in the state. The report is to be submitted no later than 180 days after enactment of the legislation.
"Home health care has tremendous potential to reduce long-term care costs and improve the quality of life of aging military veterans," said Assemblyman Jeff Van Drew (DCape May/Cumberland/Atlantic). "We should explore every opportunity to examine alternatives that would enable veterans to remain in their homes and communities and avoid placement in a nursing home or other long-term-care facility."
In 2003, half of federal VA's total extended care patient population received care in non-institutional settings. "Funding and expanding home health services can ensure alternatives to long-term institutionalization for our veterans," Senator Peter Inverso (R-Mercer/Middlesex) said. "These alternative programs can provide reduced costs to DMAVA's long-term care system while keeping our veterans out of an acute care bed and at home, where many prefer to remain."
DMAVA will study not only costs but exactly how many veterans would be eligible for home health care. "So what portion, what percentage of that group needs immediate attention?" asked Stephen Abel, Deputy Commissioner for Veterans Affairs as he spoke on the potential that all veterans at some point in their life could need home health care. "It is more essential than ever that states like New Jersey explore new avenues for supporting our military personnel and our veterans in every way possible,' explained Conners. "We have an unshakable duty to do all that we can help the men and women who put their lives on the line to protect our freedom."
The legislation (A3281/S2305) was sponsored in the Assembly by Assemblypersons Conners, Mims Hackett Jr. (D-Essex), Nilsa Cruz-Perez (D-Camden/Gloucester) and Van Drew. It was sponsored in the Senate by Senators Inverso and Robert Martin (R-Essex/Morris/Passaic).