Bikers visit Homes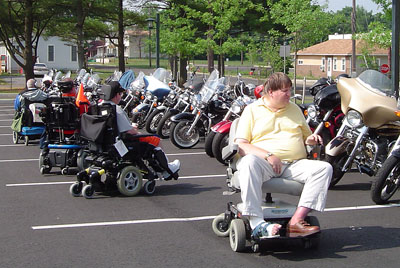 On June 16, employees, families and friends of the New Jersey Department of Military and Veterans Affairs participated in a day-long motorcycle run to visit residents at the three veterans' memorial homes.
The purpose of the motorcycle run was to increase the morale of the veterans and encourage interaction between the riders and residents. With guidance from the 42nd Regional Support Group Commander, Col. John Nunn, Cols. (retired) Jay Lovas and Michael Smith along with Lt. Col. Walter Nall and Kevin Hearn organized this year's event. Thirty riders departed Lawrenceville for the 70-mile ride to the Vineland Veterans Home – the first leg of the trip. Upon arrival, an additional five riders were waiting to join the group.
At Vineland, the riders received a tour by the Chief Executive Officer, Joseph Romano. The residents came out to view the motorcycles and share their stories of 'riding with the wind'.
The riders left Vineland for the 100-plus-mile ride to Menlo Park where the veterans were waiting impatiently for the motorcyclists to arrive. Menlo Park provided refreshments and a cool area for the riders to relax and hold conversations with the residents.
Residents of the Vineland Memorial Home come out on their scooters to see the visiting motocycles.
After Menlo Park, the riders made the final trip to Paramus. This leg of the trip came with a few challenges. First was weather, and the second was baseball. The riders drove through a rainstorm on the Parkway and the Yankees were playing the Mets. Despite those challenges, the riders safely made it to Paramus and were warmly received by the veterans.
The 1st Annual Veteran's Home Motorcycle Run was a huge success. The organizers look forward to improving the ride each year. If you are interested in participating with the group, please call 609-530-6841.