Honoring the fallen on the boardwalk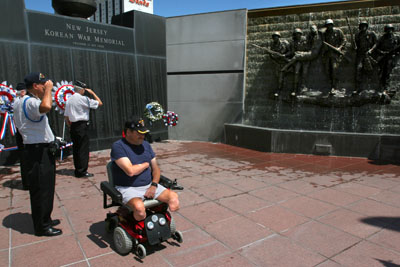 The 54th Anniversary of the Signing of the Korean War Armistice and New Jersey Korean War Commemorative Medal Ceremony was observed on July 27at the New Jersey Korean War Memorial located on the boardwalk in Atlantic City.
State Senator James "Sonny" J. McCullough (R-Atlantic), Honorable Richard E. Squires, National Executive Committeeman, American Legion; George Bruzgis, New Jersey State Commander and Thomas Falato, Deputy Program Chairman, Korean War Veterans Association, as well as Gary Englert, Director of Veterans Services at the Department of Military and Veterans Affairs addressed an audience filled with members of various New Jersey veterans' organizations and those who were there to honor those who served. As part of the ceremony Stephen Abel, Deputy Commissioner for Veterans Affairs, presented New Jersey Korean War Service Medals to Korean War veterans. The New Jersey Korean War Veterans Association in cooperation with the Department of Military and Veterans Affairs hosts this annual event and recognized 50 additional names engraved on the Memorial Wall.
Since last year's ceremony there have been additional New Jersey service members identified who were killed in action during the Korean conflict.