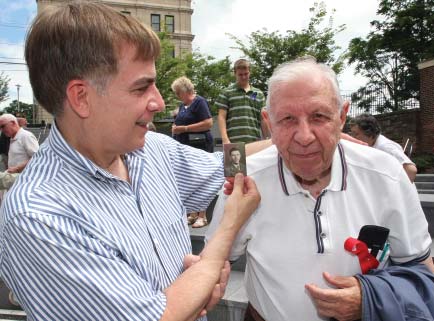 Retired Col. Stephen G. Abel, left, holds up a photo of Carmine Cannizzaro when he served in the infantry during World War II. Photo by Tech. Sgt. Mark Olsen, NJDMAVA/PA.

---
Dear Veterans,

The past year has been an eventful one for the Department and the state veterans'
community, and there's more excitement to come in the New Year.
On Veterans Day we dedicated the new columbarium section at the Brig. Gen. William C. Doyle Veterans Memorial Cemetery. After more than a year of planning and months of hard work, the 3,161 space niche columbarium will greatly enhance the appearance and function of the nation's busiest – and some might add most beautiful – state veterans cemetery in the country.

Meanwhile, the 300 residents of the Veterans Memorial Home in Paramus will soon get
more space to meet and socialize with the creation of a long awaited multi-purpose room.
The Veterans Administration has given conditional approval for the $1.5 million construction
project and I expect the work to be put out for bid shortly.
This past summer and fall the nearly 2,900 Soldiers of the New Jersey Army Guard's
50th Infantry Brigade Combat Team were the focus of one of the most comprehensive
efforts ever undertaken to support troops as they make the transition from warrior to
parent, spouse, student, employee and member of their community.

From the moment these Citizen-Soldiers stepped off the plane, they were enveloped
in a $3 million reintegration program to help them reconnect with their families, return
to their civilian jobs, address any fi nancial concerns, educate them about their veterans'
benefi ts, and ensure that their physical, mental and spiritual needs are being met.
The mental health of these returning Soldiers is paramount. In the fi rst three months
after their return, they will be screened no less than three times for post-traumatic stress
disorder, traumatic brain injuries and any other mental health or emotional issues.
This comprehensive program would not have been possible without the dedicated assistance DMAVA received from the University of Medicine and Dentistry of New Jersey,
VA's East Orange Medical Center and veteran organizations across the state. Our program
has received national recognition and is offered as a model for other states to emulate.
The challenge of homelessness received a bit of good news recently as our Veterans
Haven transitional housing program for homeless veterans will fi nally see a planned
expansion. Bids have been opened for construction. That will increase the number of
beds at the facility to 96.

And don't forget that you can now support Veterans Haven when fi ling your 2009
New Jersey state income tax return by dedicating a portion of your refund to support the
efforts to reclaim homeless veterans as productive members of society.
May everyone have a safe and happy holiday season.